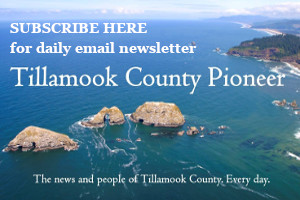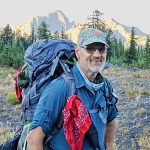 Story, Photos & Video by Don Backman
"Hey, it looks like it's going to be nice Monday and Tuesday of next week," my buddy said over the phone. "We need to go for a hike." Pause. "Where are we going?"
My friend lives in the Valley. I don't hold that against him — too much. He is an avid, highly experienced hiker/backpacker who is always itching to get outside. We started hunting and hiking together over 30 years ago. We've gone on several hikes this fall already. The 29th of December looked the best. The forecast called for cold and maybe icy conditions, but dry, so we opted for lower elevations and decided to do another section of the Wilson River trail.
The Wilson River trail is a roughly 20 something mile-long trail running along the Wilson River from Keenig Creek trailhead to Idiot Creek, which is just east of Elk Creek campground. The Oregon Department of Forestry brochure lists the trail as 20.6 miles, but a new section running from Elk Creek to Idiot Creek road was added a few years ago, lengthening the trail. The bridge across Elk creek to the Idiot Creek trail is magic. It disappears in the winter and reappears again for the next summer. That's probably a wise move by ODF as our winters can make these hiking bridges disappear permanently. The main trail has major side trails at Kings Mountain, Elk Mountain, Elk Creek, and as mentioned, Idiot Creek.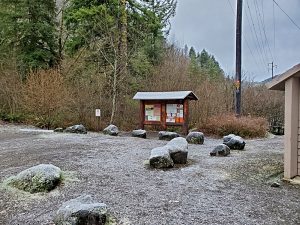 We met at the Footbridge trail-head at 9 AM. I get a little nervous parking there because of the potential for vandalism and theft anywhere along Highway 6. Don't leave anything in your car you aren't willing to lose and keep everything out of sight.
The Footbridge is a nice trailhead and day-use area. The only other people there were fishermen, one of whom gazed at us curiously for a moment as if wondering who was dumb enough to want to go hiking when they could be fishing, then got his fishing rod out of his car and answered the call of the river.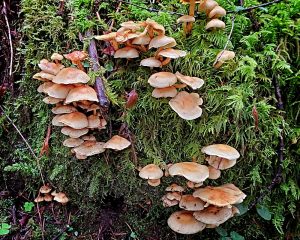 We anticipated having the trails mostly to ourselves. A few weeks ago we hiked down the trail from Elk Creek to just past the junction with Kings Junior trail before turning around. Today we wanted to connect from the other side. This was going to be a pretty long hike. Thanks to COVID we are doing out and backs. That is, hiking out, turning around, and retracing our steps back to where our vehicles are parked which does create some time constraints. During a typical year, we would have just dropped a vehicle and one end and then driven back to the other, and just hiked one way.
The weather forecast was correct. It was cold and crunchy, and not raining. I opted to layer on the cool side knowing things would quickly warm up. The light layers meant the air was a little chilly, but that would change once we got going. One reason to carry a pack is to carry clothing layers.
I have been asked about layering, so here's what I chose to wear. A long sleeve synthetic running shirt, an old synthetic waffle weave Under Armor long sleeve thermal t-shirt, and a long sleeve synthetic button-up shirt. All are relatively thin which allows for taking one shirt off to keep from overheating and sweating out my clothes (soaking them with sweat), or adding one or more to keep from getting cold when taking a break. I usually also carry a fleece shirt and/or a down puffy jacket, and a lightweight raincoat in my pack. Lately, I've been wearing my Cabelas Microtex camo bowhunting pants. It finally occurred to me that this fancy camo, which is designed for running around in the woods, and which I have had for years, would also make great hiking clothing. They also dry quickly and are comfortable, too. Hiking clothes do not need to be expensive, but in the winter one needs to put a little more thought into it to be prepared if something goes wrong.
Once we were ready, we had to walk up to the highway, then along Highway 6 to the footbridge where we crossed the Wilson river. The footbridge was a bit frosty and slick. The river below was a bit high but looked perfect for winter steelhead fishing. Bridge creek arced out over the river in a spectacular waterfall.
The trail crosses the Wilson, then goes up on the bank on the far side where it joins the main Wilson River Trail. Once there the sign was missing from the post for whatever reason, but all we had to do was turn right and head upriver towards Jones Creek. The trail was frosty and the white ice crystals crunched underfoot as we walked.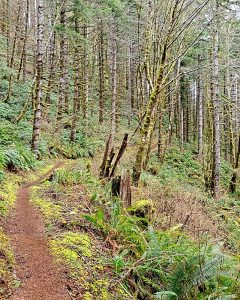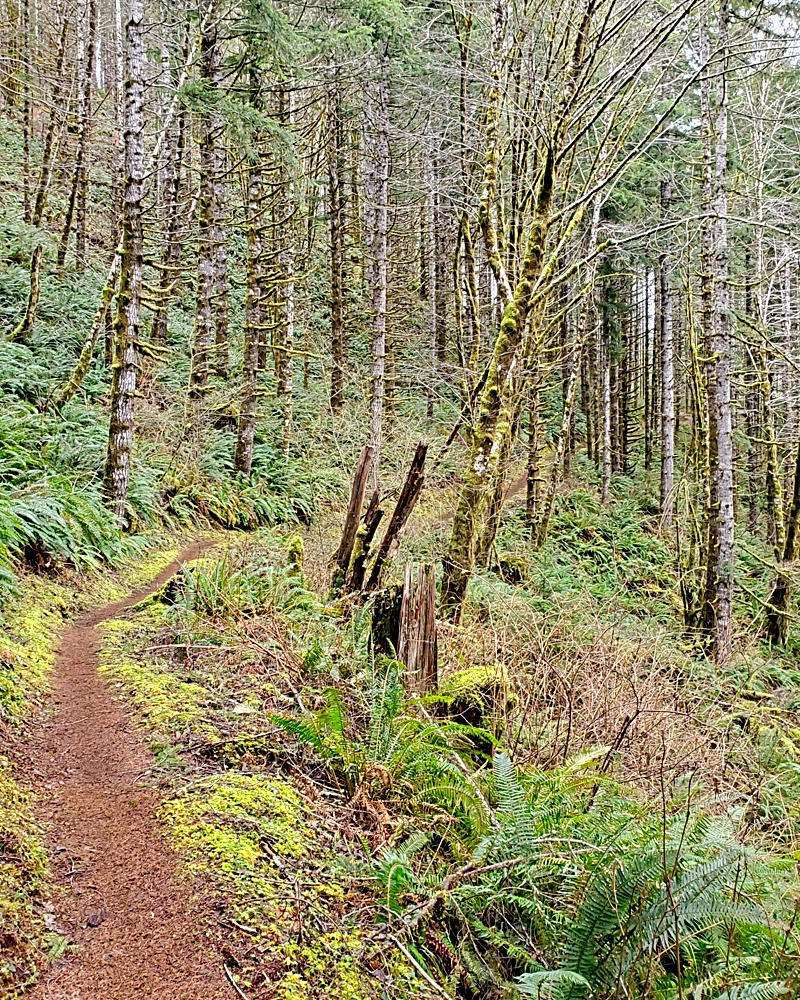 ODF has done a tremendous job keeping these trails well maintained. It wasn't long before we came across something neither of us recognized. The old broken off alder limbs lying around on the ground or in the brush had sprouted hair ice. These were very pretty translucently white flower petal-like structures that ranged from several inches to more than a foot long. They are made up of what looks like thousands of tiny and delicate-looking hair-like strands of ice.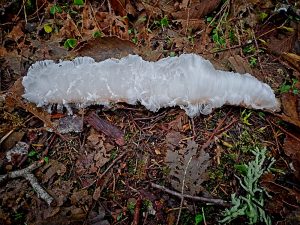 The trail crosses many streams and the bridges were slick with frost but didn't give us any problems. It winds gently as it follows the river through fern flats and timber. During the winter a lot of the brush is gone and you can see a lot more than in the summer months. The trail eventually climbs up over a small ridge. Once you've made the climb you then descend a bit toward the highlight of the section, Wilson Falls.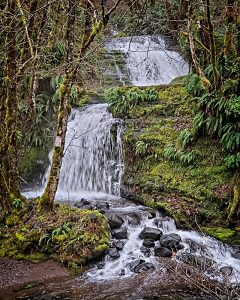 During the summer the falls are underwhelming. This was the first time I've seen them in the winter and it is impressive. There was so much mist it was hard to take a clear photo. Unfortunately, the falls are right next to the trail which makes it difficult to get a good look at them. It also means you can get your feet wet where the water crosses the trail and I was regretting wearing trail runners, but we were able to stay dry by stepping on rocks.
The next section descends to follow the river where the trail parallels Cedar Creek road back to Jones Creek park. The bridge across the Wilson to the Tillamook Forest Center is just before you reach the park but the center is currently closed. ODF has rerouted the trail around Jones Creek which caught us by surprise and added some distance but makes for a more trail-like experience in that area. The park is also closed for the winter but the day-use area is open, which is where the trail used to go. We crossed the main gravel road at the park and reconnected to the original trail.
The trail eventually climbed up over a ridge and then began to drop down to Diamond Mill OHV park. We met a couple of mountain bikers pedaling up the ridge just before reaching the road. They had the right of way so we stepped aside. Hiking etiquette during COVID when the trail is narrow is to step to the side and put a mask on, then the person going uphill can the right of way. It is usually possible to stay more than 6 feet apart. Some hikers choose to wear masks all the time, but on trails such as these with so few people most just put them on when they see other people. Like most people, my friend and I walk at different speeds so we aren't right near each other that much, which makes distancing easy.
We had to cross the road and then the trail dropped down to skirt the park along the North Fork of the Wilson river and a great view of Lester Creek Falls on the opposite bank, which were in full flow and dumping a lot of water into the North Fork. They were very spectacular. We both took some pictures of the falls. I made a mental note to come back with a tripod and DSLR right after a big storm.
It's a short distance from the falls to the bridge across the river. This bridge is cool. It has two high arches along each side like old-style highway bridges. The trail has a junction with Diamond Mill OHV area at that point and there is a picnic table.
Once across the river the trail changes. Up to now, it has mostly been relatively flat over rolling terrain with a couple of small climbs. Now it begins climbing in earnest. The trail itself isn't too steep but it is a constant climb. The trail switches back and forth a few times and works its way up through spectacular fern flats and some pretty nice looking timber. It looked like we could run into elk at any time. There were a few fresh tracks. Here we met a hiker and talked a bit. He had started at Jones Creek and hiked over to Kings Mountain and was on his way back.
The trail passes through a series of fern flats which looked like prime elk bedding areas. Eventually the trail levels out at a high switchback and cuts across a steep sidehill toward the head of Lester Creek, the junction with the Kings Junior trail, and then down toward the Kings Mountain trailhead. There are some openings for views down the creek and out toward the Wilson river. We picked one for a lunch break, then hiked the rest of the way to the head of the creek before turning around.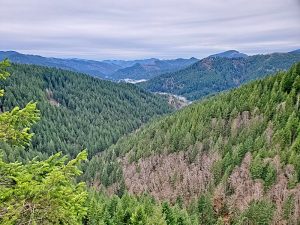 The problem with out and back hikes is once you've turned around the story is mostly over. Hiking downhill was a lot faster and we made good time. We reached the bridge at Diamond Mill and followed the trail until it met Diamond Mill road. At that point, we opted to follow the road. It gets dark early this time of year and we wanted to make sure my friend could get home before it got too dark (and in time for dinner). We followed the road (road walked) down to Jones Creek Park, then road walked along Cedar Creek road, and then the power line road until it intersected the trail again. This saved quite a bit of time. One nice thing about hiking this part of the Wilson River Trail is you can do this if needed.
The next section was about three miles and climbed back up past the Wilson Falls. Unfortunately, when we dropped back down on the far side of the ridge the hair ice had disappeared. We found out later that hair ice is caused by a fungus that somehow affects the water so it freezes into these long hair-like strands. We continued making good time and eventually made it back to our undamaged vehicles.
The trail was in great shape. There were only a couple of small muddy spots that were easily navigated. Bugs were non-existent which is a nice bonus to hiking this time of the year. We met very few people, maybe 7 or 8, on the entire section. The bridges were pretty slick with frost in the morning. Once the frost disappeared the boards were still wet and slippery, so one needs to keep that in mind when crossing them.
The hike was 16.6 miles round trip. The trail climbed to 1,710 feet elevation, and the trail had 2,357 feet of overall elevation gain. The section from the Footbridge to Jones Creek is one which most hikers should be able to do. The section from the bridge at Diamond Mill to the head of Lester Creek is a lot more challenging due to the long climb. The trail itself is in great shape and easy to navigate.
My friend did make it home in time for dinner, got all of his chores done, and didn't even have to sleep in the doghouse.
Here's a video of our hiking adventure on the Wilson River Trail – Footbridge to Lester Creek section (12/29/20):