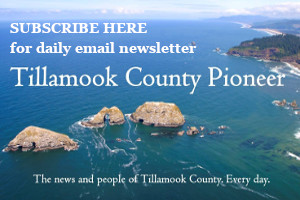 Brad Mayerle, an avid outdoorsman and retired dentist, this week declared his candidacy for an open position on the Manzanita City Council.
This year's race for Manzanita's City Council and Mayor will be held on November 8 and three positions are up for election – those currently held by Mayor Michael Scott, along with City Councilors Linda Kozlowski and Steve Nuttall. Councilor Nuttall announced that he will not seek re-election, and no other candidates have yet declared their intent to run for the Council. In the mayor's race, only Mayor Scott has declared thus far.
"Our city is at a crossroads and the November election offers an opportunity to choose a better path forward," Mayerle said. "We need a clear vision for the future and better planning to help us get there. We need elected leaders who are transparent in their work and accountable to the people they represent. We need action, and a sense of urgency. I can offer that."
Prior to his retirement, Mayerle was a dentist in Lake Oswego for 28 years, leading a staff of 15. His family bought a second home in Manzanita more than two decades ago and made it their permanent residence five years ago. He and his wife Jennifer have a 23-year-old daughter and a young yellow lab named Colonel Mustard. Mayerle, 58, spends his leisure time clamming, crabbing, fishing, mountain biking and hiking.
"While things have changed since we first bought our home, I believe our city is a wonderful place and has enormous potential for the future," Mayerle said. "In talking to my friends and neighbors, watching city council meetings and reading local stories and social media posts, it's clear our city has lost its way, putting the interests of visitors and developers above the concerns of the people who live here. Our current path, with its dependence on tourists and short-term rental income, is not sustainable. We need a better balance: a diverse and vibrant community that welcomes visitors, but first and foremost, meets the needs of the people who call Manzanita home. Our future and quality of life depend on it."
Mayerle didn't plan on seeking elected office when he retired. "But I believe in public service and in making a difference however I can," he said. "I'd like to do that in Manzanita – to bring people together to address the issues we face. I've heard their concerns about livability, the ongoing city hall drama, closing trails to access the beach, dune grading, loss of wildlife habitat, and construction noise. And I believe there are solutions – that we can find common ground if we work together earnestly and respectfully."