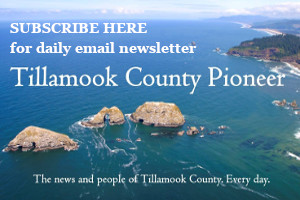 Completion of the Gravel Parking Lot Presents Opportunities to NVCA for Financial Support
Nestucca Valley Community Alliance (NVCA) a 501(C)3 non-profit organization made up of community volunteers and community supporters announces that the excavation of the Community Park sixty car gravel parking lot area is near completion.  The excavation project is financed by a generous $97,800 grant awarded by the Tourist and Lodging Tax administrators.  The objective of this grant when completed is to provide a parking area to accommodate 60 parking slots.  The Community Park is located 100 yards east of Cape Kiwanda Drive just south of Doryland Pizza and adjacent to the Tillamook Lightwave building.  The final completion of the gravel parking lot when it will be suitable for parking is expected to be in June, 2017. The purpose of the parking lot is twofold, to alleviate the parking congestion at Cape Kiwanda as well as providing an opportunity for NVCA to earn funds to be used toward further completion of the Community Park.  Further work needed to complete the gravel parking lot project is to install parking space markings; information, and safety signs; a method to collect parking fees; and to install a radio controlled sliding gate made possible by a $10,000 grant from Tillamook Public Utility District.  Ultimately at some time in the future the parking area will have an asphalt surface.
NVCA was formed in 2010 for the purpose of building a community park on property that is leased from Tillamook Lightwave for a nominal lease payment on a sixty year term.  Great strides to complete the community park have been made over the years from generous donations of time and money by local businesses and community residents.  In addition NVCA has been the beneficiary of several grants awarded by several organizations where the awards have been directed to specific projects within the park.  NVCA takes this opportunity to thank the individuals, organizations and businesses that have contributed time and money in support of this effort. There are too many to thank by listing the names individually.
Currently NVCA in conjunction with Nesucca Valley Elementary School is working on preparation for the fifth annual Science Camp.  The funds for this year's camp are provided by a $9,800 grant from Trust Management Services in Waldport, Oregon.  The theme of the 2017 Science Camp is Energy.  The Science Camp is part of the education arm of the NVCA organization.
At a date to be named later NVCA will hold an open house for the community residents to view the community park in its present state and see illustrations of what the park will look like upon completion.  Come and see what your park will look like when completed.  By completing the gravel parking lot, opportunities will be available where NVCA will be able to apply for grants that are generally available to award financial assistance for specific projects requiring relatively small amounts of money and to pursue sponsorships.
Visit the NVCA website www.nestucca.org where you can donate and volunteer.  Watch the Facebook page for more information and to keep up-to-date on future events.  Send your comments and suggestions to nvcainfo@gmail.com.