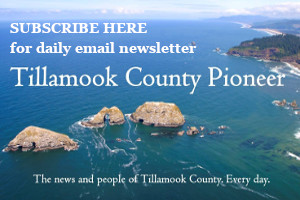 By Laura Swanson
The videos and images of vehicles lining Highway 101 at Oswald West State Park on any day of the week, but especially on the weekends, have been circulating for weeks on social media. Then came the announcement on Monday, August 10th: "It's beautiful at Oswald West State Park, but there are NO TOILETS. The water system is overwhelmed from use and the bathrooms are locked because no water, no toilets. The drinking fountains are closed, too. If you plan to visit, make sure everything is taken care of beforehand. It will take at least 24 hours, maybe more, for the water system to replenish." Oregon State Parks reported on Wednesday August 12th that the restrooms are re-opened, but still emphasized that if the parking lot is FULL, please find another location to enjoy. Locals have been documenting increases in trash, and particularly wads of toilet paper lining trails, roads and pull-offs throughout the county for the past few months. Whether ignorance or arrogance, it has become clear that as the quantity of visitors has increased significantly, the "quality" has seriously decreased – those that truly care about our environment and stewardship of our natural wonders is seriously lacking.
With the forecast for triple digits in the valley coming this weekend, locals are being told to expect a "surge" of visitors. And the responses range from "A surge? We are already overflowing." Then there are the messages to Portland TV and media – "Please stop telling people to go to the coast during the heat wave. There's not room for anyone else here."
"In 31 years of state service I've never seen anything like this. I look forward to better times." Said Ben Cox, Nehalem Bay Management Unit, Park Manager. He continued, "OPRD (Oregon Parks and Recreation Department) are working with partner agencies (ODOT, OSP, Manzanita Police and Tillamook County Sheriffs) that have stepped up in a huge way to help manage the many visitors straining local resources. You may have witnessed or seen photos of the reader boards, cones, caution tape and permanent signage in the 101 corridor between Os West an Arcadia Beach. While not perfect, this has helped a bunch." This year will help shape conversations about what to do in the future. "This is a dynamic situation – in the face of very real budget uncertainties, all we can really do is put our best foot forward and plan for the day when cash resources return," explained Cox. "Even then, we'll have to catch up from all the deferred maintenance this year has brought. It's frustrating for sure, but know that we're never not thinking about the next month, or the next ten years, even now."
The increased pressure at Oswald West has been in part due to the closure of Ecola State Park because of a serious landslide. So in addition to managing the flood of visitors, Cox has been pushing to get Ecola reopened. "Returning a cherished experience is our main focus, and we believe that reopening Ecola will relieve pressure on a number properties, including Oswald West," he explained. "Ecola is a top day-use revenue producer – given the $22 million budget hole OPRD must navigate, revenue generation is certainly a consideration. It has been a challenge. Every park in the state is enduring these hardships; they seem to be magnified in our already-busy Coastal Region that is seeing visitation unlike anything seen before. Not just numbers – the tone of the average visitor is just different," Cox observed. He continued, "Aside from missing a huge part of our family – we're still working 11 staff members short on the Nehalem crew – it is increasingly difficult to be without the rest of our team. I couldn't be more proud of this group for what they've endured and the work they've produced in the face of these unprecedented challenges."
Visitors simply aren't getting the message. "The messaging is there – we are practically shouting it from the rooftops, but the pleas to 'Prepare and Care' are ignored. You know the saying, 'You can lead a horse to water …" said Ben Cox.
There are many local efforts to assist State Parks with weekly beach cleanups, and incentives for picking up trash on the beach (the Manzanita Visitors Center has partnered with Manzanita Cones and Coffee – pick up a trash bag at the Visitors Center, fill it with trash and return it to the MVC and receive a coupon for a free cup of coffee.) There will be a SOLVE beach cleanup in Manzanita on Saturday, August 15th.
What can I do to help keep parks open?
Please PREPARE:
·Stay home if you're sick.
·If you visit for the day, stay local and close to home—meaning less than 50 miles in urban areas.
·Only visit with members of your household.
·Bring all supplies—food, water, hand sanitizer, face cover—needed for a short trip.
·If a park appears crowded, leave and come back another time.
And CARE:
·Wear a face covering in congested areas, even outside. Homemade is fine.
·Stay at least 6 feet away from people who aren't from your household. Further apart is better.
·Cover your cough with a tissue (then throw it away), or the inside of your elbow.
·Leave no trace: pack out everything you bring with you. This includes ALL trash, toilet paper, etc.
·Stick to low-risk activities to reduce stress on local emergency response and health care systems.
·Keep your visit short if you just come for the day. Restrooms and other buildings may be closed.
·Watch for signs at the park for more information.
Watch State Park's Prepare + Care video here.