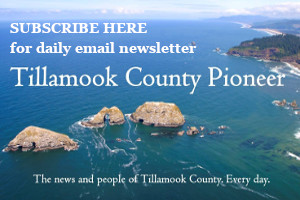 By Cara Mico, Assistant Editor
Phil Chick has lived in Nehalem for almost half of his life. Originally from Indiana, Mr. Chick moved to Portland, then to the coast. He was escaping a hot summer day and fell in love with the area. He worked at Jetty Fisheries Marina for three seasons before moving here full time and setting down roots.
"Nehalem has been very good for me and my family, I'd like to offer a contribution back," said Mr. Chick regarding his mayoral run.
Mr. Chick has a few goals for Nehalem. He'd like to help to keep Nehalem thriving, "Nehalem has always deeply valued its people, its environment, and its economy. My viewpoint on small local governments is that it takes a lot of people to make work. They tend to be stagnant when they are operated as a one way street."
His vision includes a city where communication is open and there is conduit for information to flow freely. He also would like to see more people bring their ideas to the council.
"The great things that happen in the community happen because people in the community bring things to the council. I'd like to see more people use the city forum."
Mr. Chick highlighted two community led projects; the Nehalem Bay Artist's Coalition mural at the park and the playground equipment. After these improvements the public space is almost always in use by families, for festivals, and visitors.
He sees a lot of opportunity for the city. Nehalem owns nearly 900 acres of forestland encompassing the drinking watershed and he believes that there is an opportunity to manage that forest effectively to ensure that the community has drinking water quality and quantity in the future.
The Planning Commission is also working on growth management and the issue of short term rentals (STRs).
"We need an effective and equitable way to manage STRs and growth, and that needs to be led by the comprehensive plan that was completed a couple years ago, and by the people," said Mr. Chick, "In the next 10 years, I would like to see Nehalem remain a place that is livable. It historically means where the people live, and that stands true today. I want to see it remain a place where coastal people can live. The City of Nehalem currently has two licensed STRs in the City. Last fiscal year the City received $100 in STR permitting fees ($50 annual fee) and collected $3,310 in transient lodging tax. Although Nehalem may not have a large STR base currently, I think it is important for the City to begin acting proactively today rather than reactively in the not so distant future."
One of his goals is to ensure that there are places for people to live here and that Nehalem is more than a tourist destination.
"Whether it's in Nehalem, Manzanita, or Wheeler, there's not an easy solution to that problem, it's going to take some creativity, to be flexible, to listen to new solutions and ideas. We're just a group of people that are elected and entrusted to make hard decisions, sometimes that's going to get uncomfortable, that's going to take some thinking we're not used to. It's going to take some collaboration with the county, we'll be working with the County on that. If we want businesses to be staffed 7 days a week the way we look at housing has to change," he added.
One potential solution Mr. Chick raised was reconsidering what HOAs and ordinances require. An example of this? Many places require a minimum home size with design standards that include garages, and this isn't affordable for many people.
"The tragedy is that there are people who grew up here that live unhoused, and they live out in the woods, that's wrong. I'm willing to do the work. I've been on the Council for 2 years and we haven't taken a position on that. It's past time to do that. If I am elected Mayor, that's one thing I'd like to do, annual goal setting, reviewing the comprehensive plan and making sure that we're on track to the way we'd like to see Nehalem go."
Mr. Chick is also concerned about is Climate change, a topic brought up by the planning commission and addressed in the comprehensive plan.
"Sea level rise is one of the threats we have as a river town. We have been working with the Emergency Volunteer Corps of Nehalem Bay and the fire department to train for emergency situations."
Mr. Chick brought up potentially looking to the forest for carbon sequestration in addition to managing the land for water quantity and quality.