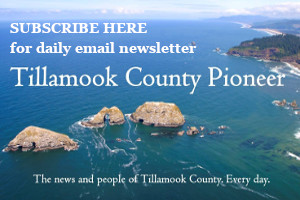 Tillamook, OR – On Monday September 7, 2020, Labor Day, the Pike Fire (south Bay City area, near Idaville) started at approximately 10:50 PM and at this time has grown to 100 acres in size and is at minimal containment. Crews have been battling high winds and are focusing on structural protection as they prepare for the night. No structures have been lost at this point. Winds are expected to remain steady with gusts up to 30 MPH decreasing to 20 MPH overnight.
Currently Oregon Department of Forestry, Tillamook Fire District, Nestucca Rural Fire District, Bay City Fire, Garibaldi Fire, Nehalem Bay Fire, Netarts Oceanside Fire, the Sheriff's Office, Whitehead Reforestation, South Fork Inmate crews, and private heavy equipment operators are currently battling the fires.
Evacuations were instituted for residents and will be reevaluated at least 8 AM tomorrow, Thursday, September 10, 2020. A shelter has been established at the County Fairgrounds, including accommodations for animals. We are requesting people stay clear of the area so as not to impede emergency operations.
In addition, the Port Fire started at approximately 10:29 PM on September 7, 2020 and had burned approximately 7 acres and is fully contained. No structures lost, but there have been flare ups due to the winds and crews remain battling this fire as well.
Tillamook PUD and other utilities have been working throughout the last 24 hours and power and other utilities are being restored gradually to all customers. Visit tpud.org/outages for additional information.
Again, please remain out of these areas for your safety and that of the firefighters. Please do not call 911 or the nonemergency line for Tillamook 911 for updates on evacuations or fire information. The information will be put out as available.
Signup for Nixel alerts by texting to 888777 with your zip code, and you will receive updated information on evacuations and other emergency notifications.