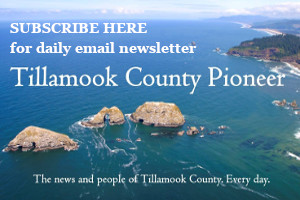 His father, Werner Widmer, emigrated to the United States from Switzerland in the 1920s.  George Widmer was born in Tillamook, Oregon in October of 1931, the 5th of 6 children to Werner and Hattie Mae (Zuercher) Widmer.  He attended Wilson, Fairview and Maple Leaf schools and graduated from Tillamook High School in 1949.  He married JoAnn Swett in March 10, 1951.  In the next 10 years their five children were born.  They were Steve, Mark, Beth, Dennis and Jill.  They were all born in Tillamook.  George is a true Tillamook Pioneer, as his mother was also born in Tillamook.
The first home George built in Tillamook is on Nielsen Road.  He dismantled a barn located on Tillamook River Road and built the house from the barn timbers.  Look around Tillamook and you will see many homes that George has built in his years of being a contractor, an occupation that two of his sons followed.  George and JoAnn owned several businesses in Tillamook including the Tillamook Coastway Motel on Hwy 101 and a laundromat (Tillamook Speed Wash) for several years with Ted and Linda Jacob.  George and JoAnn traveled the world working with missionaries in Kenya, Ethiopia, Brazil and here in the states.
George and JoAnn have traveled the world, but always came back to their roots in Tillamook.  George was involved with the Tillamook YMCA, Habitat for Humanity, SMART Reading and Meals on Wheels.  He is very active at the Tillamook First Christian Church as an elder, Sunday school teacher and helps keep the senior citizens over 62 lunch group going.
JoAnn was born in Tillamook in April 1930 to A. J. and Bernice (Ripley) Swett. JoAnn was a very devoted mother, pianist at First Christian Church for church and the Junior Department, missionary circles, local & state and national offices of Monday Musical, 4-H sewing with her sister Shirley.
George and JoAnn were both very active in the Tillamook County Pioneer Association.  He was President and they both headed up the Pioneer booth at the fair (always a popular booth to stop by for a cup of coffee, a rest, and a visit).  George is also very active in The Fern coffee and breakfast crew.
George attended OSU in Corvallis, just long enough to convince JoAnn to return to Tillamook and marry him.  (One term)  George and JoAnn have a legacy of 5 children, 22 grandchildren and 21 great-grandchildren.
They were friends to everyone they met and always ready to give a helping hand.
Sad to say, he lost the love of his life in December 2016, when JoAnn passed away.  She will be missed by many.
According to the Tillamook County Pioneer Association's Ruby Fry-Matson, "They were both involved in many things.  I just didn't have room to put it all down."