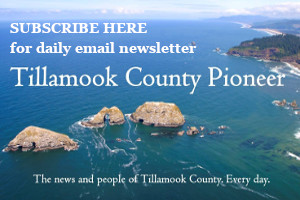 EDITOR'S NOTE: The Pioneer's poet that is truly a pioneer … Virginia graces us with a poem a month (or more) when the muse or subject matter presents itself. Join us in wishing Virginia HAPPY BIRTHDAY. March is Virginia's "birthday month" – she celebrates 96 years of life today, March 14th. Please send your happy birthday wishes to Virginia – via the Pioneer and we will forward them on – editor@tillamookcountypioneer.net.
By Virginia Carrell Prowell (03/12/2021)
When you're 3 or 4 you tell everyone you are almost 5,
But 5 is not your ultimate goal,.
Because you know that in another year
You will be old enough to go to school.
During the next eventful eight years
While your learning new things, and making friends, time seems to disappear.
At the age of 16 you know the present you want to get
It is the ultimate sign that you've grown up and now you can get your driver's permit!
Twenty-one is your next destination,
You will register to vote without hesitation.
The 20's are exciting and revealing.
As an adult you discover opportunities are unending.
By the time you are 30 life has become routine
Until the day you reach thirty eight and thirty-nine
This is the time you start to lie
Each coming birthday you're still thirty-nine
The years and birthdays come and go Until one day you become an eighty year old!
All of a sudden, you receive more respect
It's something you surely did not expect.
Then in no time, it seems, you've reached the ripe old age of ninety.
Bragging starts at this age you know,
Just like when you were three and four.
For more poems and stories by Virginia, search on the Pioneer's website, or check out her video interview here: