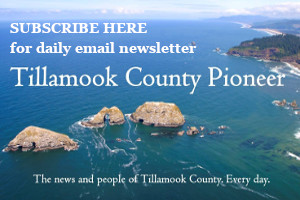 EDITOR'S NOTE:  The post on the North Coast BBQ didn't name names (or include the name of the author), but as Deb Simmons explains below, she is the only candidate for Manzanita mayor.  As she pledged to do, provide transparency, here is her response. to the post that read:
Business and Politics. It appears a Mayoral candidate might have some questionable business practices in regards to paying corporate taxes to the state of Oregon. Hiding a business in a nevada Llc just seems wrong in my opinion. Corporate taxes help pay for education, public assistance and medicaid to name a few. It seems self serving and plain wrong not to pay your fair share to the state, county and city we all love.
Will self serving decisions be made once elected only to hurt others in the community? Let your vote be the voice.  – Citizens for common sense
By Deb Simmons, Candidate for Mayor of Manzanita
Reply to "Business and Politics" by Mr. and/or Ms. Anonymous, "Citizens for common sense."
Have to say though … common sense and anonymous – feels like an oxymoron!
As the only Mayoral candidate, so far, for Manzanita City, I have to assume this post was intended for me.  Please, come out, come out where ever you are and listen to your fiction hit the fact.
The corporation I think you listed (the cloudy copy was impossible to decipher) was formed by a holding company prior to acquiring an Oregon company in bankruptcy.  The corporation was designed to merge the ailing firm with another like entity.  The proposed merger was presented to the holding company by my husband and his business associate.  The holding company had the funds and corporation established, so they hired my husband and associate to execute the turn around.  During the initial months of the newly-formed corporation,  as it migrated towards positive cash flows, the holding company faulted on its pledge for financing.  At that juncture, my husband and now business partner, put up the necessary funds and completed the first task of establishing a profit.
The new entity represented hundreds of employees, made the repayment of several million dollars in vendor debt and 
today
, represents a thriving business operating in two northwest states.
My husband and partner inherited the corporation when selling the company operations (brand assets) into another existing operating entity.
My entry on the records of the corporation as Secretary occurred in 2013 when my husband's business partner and friend died at the age of 65.
The structuring of a corporation, including where established, is between the individuals starting the corporation, an attorney and accountants.  Many corporations  favor states such as Delaware, Nevada or Wyoming for a variety of reasons.  Management usually prefers states such as Nevada for reporting purpose where it is far easier.  Stockholders prefer Delaware in many cases.  All these reasons can be found on Google.
Our accountant for over 35 years, said the following:
"The company in question operated a business in Oregon and reported all activity on the Oregon business return as required.
As required, this company registered with the Oregon Secretary of State. Using the Nevada Corporation for the initial corporate documents, it does not change or reduce Oregon taxes."
As business owners, we not only paid Oregon personal taxes, but Oregon business taxes as well (payroll and other business taxes).
As Oregon residents, we are taxed in Oregon on our income. We have a CPA that files our taxes according to the tax laws, and we have always paid our taxes as required.
My husband and I are proud to have been business owners who contributed to the Oregon economy for many years.  Our endeavors helped hundreds of employees, and related vendors.
Starting a company is incredibly difficult, time-consuming and financially draining – ask any business owner. Their road is neither easy nor consistent.  Many challenges ahead.
They need  our support.
It is time, though, to raise the communication bar in our community. Hopefully, Manzanita's culture will not allow itself to be defined by anonymous accusations bearing mere portions of the truth.
Eleanor Roosevelt said on defining a culture:
Great minds discuss ideas, 
Average minds discuss events; 
Small minds discuss people. 
What  I hear Eleanor saying… is raise the bar.
All of us can go from the small mind to the great mind and to participate with objectivity.  We need to move up the community bar so our exchanges deal in fact and not fiction.
My  name is 
Deb
Simmons, and I am a candidate for mayor of Manzanita.