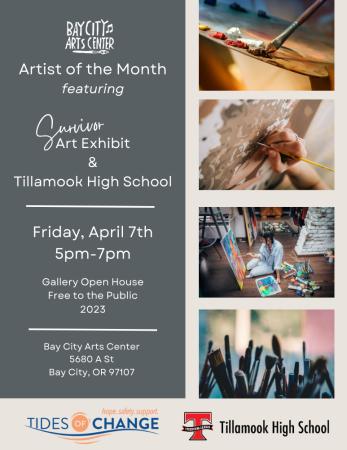 EDITOR'S NOTE: The same weather and conditions for Tillamook County, and in fact, currently air quality is hazardous in Bay City and Tillamook, and it likely to stay this way for the next couple days. Stay indoors, close windows, use fans if possible and avoid strenuous outdoor activities. See more suggestions below.
The Clatsop County Public Health Department is warning all residents to expect significantly poor air quality lasting into this weekend and is offering guidance for reducing exposure to potentially hazardous conditions.
Weather forecasters predicted Wednesday that the current east winds will shift overnight to the southeast.  This direction will bring the heaviest smoke from the current large Oregon wildfires directly into Clatsop County.  The winds will continue to shift till they are onshore (west); at that point the smoke that has already worked its way offshore for the last two days will return, potentially impacting Oregon and Clatsop County a second time.
Please prepare yourselves to respond to hazardous conditions.  Communities on the central coast currently experiencing these levels of smoke have Air Quality Index (AQI) values exceeding the Hazardous level. This air quality could cause serious health impacts for all people. To reduce those impacts, please read the following recommendations:
Stay indoors with windows and doors closed and any gaps in the building envelope sealed. Avoid strenuous activity.
If available and if needed for comfort, run an air-conditioner on the "recirculate" setting. Be sure to change the filter at appropriate intervals. Other types of room or central air filtration systems may help remove airborne particles, but they need to be selected to adequately filter the area in which they serve. Some electronic air cleaners and ozone generating "filters" can generate dangerous amounts of ozone indoors. These ozone filtration systems do not remove harmful contaminants from the air and are not recommended.
Never operate gasoline powered generators indoors – they produce dangerous carbon monoxide. Avoid smoking, using wood stoves, and other activities that add to indoor air contamination.
If there is a period of improved air quality, open up (air out) the house and clean to remove dust particles that have accumulated inside.
Humidifiers or breathing through a wet washcloth may be useful in dry climates to keep mucous membranes moist, although this does nothing to prevent inhalation of contaminants.
When riding in a car, keep the windows and vents closed. If comfort requires air circulation, turn the air-conditioning on "re-circulate" to reduce the amount of outside air drawn into the car.
Employers engaged in strenuous outdoor work should consider light duty projects if possible.
VULNERABLE RESIDENTS
Residents with asthma, COPD or heart disease and others considered at high risk from health effects from contaminant inhalation should move to an adequate "clean air" shelter, which may be in their home, in the home of a friend or relative, or in a publicly-provided "clean air" shelter. They should also have at least 1 week of any respiratory medications on hand, and, for those who rely on an oxygen concentrator, to have back-up oxygen tanks on hand in case the power goes out.
USE OF MASKS
Paint, dust, and surgical masks are not effective obstacles to inhalation of the fine airborne particles generated by wildfires. For information on use of respiratory protection for adults see "Wildfire Smoke – A Guide for Public Health Officials."  KN-95 and N-95 masks provide better filtration of particles as long as they are fitted.
OTHER RESOURCES
CDC: Symptoms of wild fire smoke and self care steps:
https://www.cdc.gov/disasters/wildfires/smoke.html
CDC: Wildfire smoke and COVID 19 questions and answers:
https://www.cdc.gov/coronavirus/2019-ncov/php/smoke-faq.html
CDC: How to create a clean air space in your home:
https://www.epa.gov/indoor-air-quality-iaq/create-clean-room-protect-ind…
Effects for kids:
https://www.pehsu.net/HealthProf_Acute_Risk_of_Wildfires.html
OHA wildfire preparedness:
https://www.oregon.gov/oha/ph/preparedness/prepare/pages/prepareforwildf…
Oregon Smoke Blog:
http://oregonsmoke.blogspot.com/p/air-quality-forecasting.html
Oregon Satellite Imagery:
https://weather.cod.edu/satrad/?parms=local-Portland-truecolor-48-0-100-…