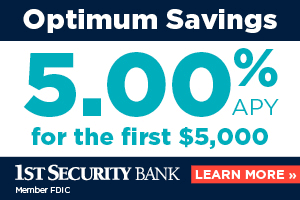 We know that wearing a face covering correctly – that is, over your mouth and nose – is one of the most effective ways to slow the spread of COVID-19. People in Oregon are extremely creative and willing to go the extra mile to make wearing a face covering work for them. We asked Coronavirus Update readers to share their tips. Here's some of what they told us:
If your glasses are fogging up: 
Fold a tissue into a small rectangle and put in under the mask on the bridge of your nose.
Raise the top of the face covering so that it's under the bottom edge of your glasses.
Use anti-fog spray or cloths.
Rubbing soap on your glasses, then wiping it off with a microfiber cloth without rinsing. This can also work for a clear mask that may be worn to make it easier for those who are Deaf or hard of hearing to understand.
Put a piece of paper medical tape or adhesive bandage across the top of the mask.
Rub a pea-sized drop of shaving cream on your eyeglass lenses to prevent fogging. Do not use shaving cream with moisturizers. Polish until clear.
Use a bit of vinegar and hot water on the lenses.
To make it more comfortable: 
Repurpose swimsuits to make comfortable straps.
Sew on the closure from a coffee bean bag, a pipe cleaner or twist tie from electronics packaging for a nose strip.
Tie a string or ribbon to the elastic so the mask is secured around the head rather than behind the ears
Slip your mask over the arm of your glasses (near your ear) to reduce pressure on your ears.
To remember your face covering: 
Wear it on a lanyard.
Leave some extras in your glove compartment.
Keep an extra in your bag.
Keep it with your wallet and keys.
One reader named Kathy reminded us why we wear face coverings, "Masks are about freedom! Freedom to stay safe and keep others safe, so you can do MORE."
Val sewed buttons by hand using needle and thread onto all of her baseball caps, a winter hat and a fleece ear warmer. If you place the buttons a little up and behind your ears, it solves three problems: 1) no painful ears 2) no slipping down the nose 3) less foggy glasses because the mask is more snug. Buttons need to be larger than shirt size, about 1/2″ diameter or a little larger seems to be best.
Ideas for celebrating holiday meals safely
Gathering around a table for a holiday meal will look different this year. During the freeze, only two households can gather together with no more than six people together total. Remember it's safest to enjoy your holiday meal with only the people you live with.
If you choose to celebrate with the lowest risk for spreading COVID-19, here are some ideas:
Join friends and family over a video call. Setting the computer at the end of your tables can make it look like you're all at a long table together.
Cook a pie or favorite dish and drop it off on your loved one's home without contact.
Exchange photos of the people (or food) at your meal with the people you would normally invite.
Send an email or letter with stories or memories from past holidays to let people know you're thinking of them.
If you do decide to gather with another household at your home, the graphic below has suggestions for eating together safely.
Apply for food, cash and other assistance from home during Oregon two-week freeze
All Oregonians can apply for food, cash and child care assistance provided through the Oregon Department of Human Services (ODHS) from home without having to visit an office in person.
To apply from home, visit govstatus.egov.com/or-dhs-benefits for information on how to apply for assistance using an online application, email, mail, telephone or application drop off.
Oregonians who need urgent and ongoing food assistance can visit needfood.oregon.gov.
For more ways to connect with ODHS or to find other types of assistance, contact 211info:
By dialing 2-1-1 from any phone
Text your zip code to 898211
By email at help@211info.org
Weekly report shows cases and hospitalizations at record highs
OHA's COVID-19 weekly report released today set pandemic highs for daily cases and hospitalizations.
OHA reported 6,491 new daily cases during the week of Monday, Nov. 9 through Sunday, Nov. 15, a 25% increase over the previous record-high week.
The percentage of positive tests for COVD-19 increased to 12.5% from 11.9%, even with an increase in the number of people tested.
Weekly hospitalizations from COVID-19 rose to 291, the highest yet reported in the pandemic.
There were fewer deaths, 31, associated with COVID-19 than the previous week's record high of 42.
People aged 20 to 49 accounted for 51% of the cases, while people 70 and older accounted for 75% of deaths.
Note: This week's report includes a report on people with intellectual and developmental disabilities who have been diagnosed with COVID-19. This includes people living in congregate or residential settings.
To date, there have been 5 people with intellectual or developmental disabilities who have died from COVID-19 associated illness.
This total comes from matching client lists from the state's Office of Developmental Service Disabilities and the COVID-19 database.
These reports will be published quarterly. More information can be found here.