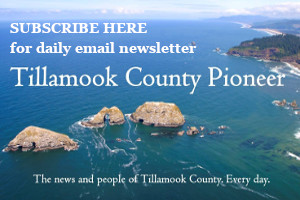 EDITOR'S NOTE: Our Coast Range passes and highways during any season are hazardous, and winter conditions can increase the danger. Our community is reeling from the loss of Pastor Jerry Jefferies in a tragic accident on Hwy. 6 yesterday, Feb. 3rd. I worked with Jerry on several nonprofit projects and and was always so happy to have him join us for his insightful contributions and energetic can-do attitude. With Donald Roddy's first email this morning, I had already reached out to others in our faith community. There was a Holden Service for Pastor Jefferies this evening and we'll share more about services as that information becomes available. In the meantime, we would like to share stories and memories of Jerry Jefferies to share with the community to save these in perpetuity to honor the impacts and contributions that Jerry has had on our community. To say "he will be missed" is an understatement. As Donald Roddy's notes from church, a sermon given my Pastor Jerry in 2015, and the best word to describe him "Love." Please share your stories and memories of Jerry Jefferies and we'll share them here on the Pioneer, for our community's healing and to honor him.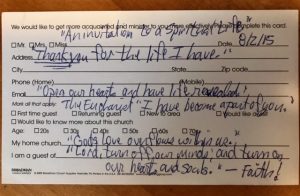 From Donald Roddy:
Hwy 6, between Tillamook and Banks, likely one of the most dangerous roads in the nation, has taken another life, local pastor Father Jerry Jefferies; an extremely influential man to so many — or community has been rocked … myself among them 😢. The attached photo is the one and only time I ever took notes at church. Having it displayed on my dresser I return to it often … especially the "Lord, turn off our minds, and turn on our hearts and souls. —Faith!" His words have gotten me through many a day. The best I can use to describe him is "Love."
About Jerry's crash-send to TUMC members as you see fit …
From Keith Johanson: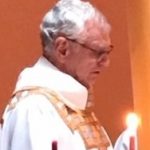 I've been trying to figure out how to deal with Jerry's death. Should I just sit down and cry, or should I laugh and share the celebration of the joy he brought to my life? My conclusion is to answer this apparent dilemma, yes; I will both mourn my loss and celebrate my good fortune of sharing, with joy, a part of Jerry's life.
Facts are sparse and speculation has the ability to abound concerning Jerry's death. At least one photo of the aftermath of the collision Jerry was in has appeared on the web. This is what is known concerning the collision: Jerry was westbound on highway 6. The initial finding of the Oregon State Police, that responded to the collision, is that Jerry likely encountered "black ice," around milepost 37. He lost steering control and crossed into the eastbound lane where he hit a loaded log truck, that was eastbound on OR 6. There are residences in that area and "good Samaritans" were able to get Jerry out of his vehicle. It appears he likely died on impact.
Jerry was not burned in this collision. I say that because the photo found on the web shows the back of a pickup, Jerry's, and the "tractor" portion of the log truck, fully engulfed in flame. The headline leaves room for speculation Jerry may have been burned; He was not burned.
That is what we know. I hope this removes any speculation that any of us may have had. If further pertinent information comes out, and it's appropriate, it will be shared.
Cry? Yes! But remember the good and the joy Jerry brought to us. Laugh? Yes!
With much love and remembering the joy and laughter Jerry gave me…
Here are some photos of Pastor Jerry Jefferies at St. Catherines Blessing of the Animals in 2019.