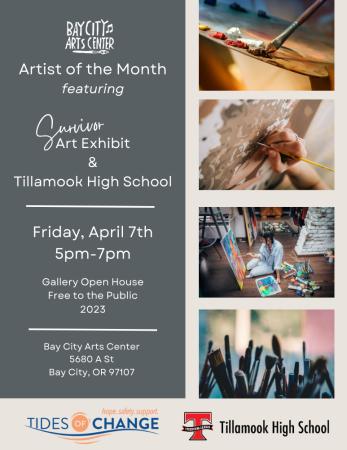 By Laura Swanson
Le Cordon Bleu North America is proud to bring Master Chef Roland Henin to the North Oregon Coast. On December 9th from 2 to 4 pm at the new Partners for Rural Innovation Building in Tillamook, the event will include cooking demonstrations and instruction by Chef Henin, book-signing, food sampling with wine, and more. There is a limited seating, and tickets are $5.00 per person, available online at www.chefrolandintillamook.eventbrite.com, by calling the Big Wave Café at 503-368-WAVE(9283) or at the door if seating is still available.

This is a rare opportunity to enjoy the knowledge of a Master Chef on the Oregon Coast – there are only 67 certified Master Chefs that have earned that title. "50 Years of Mentoring Great American Chefs" by Susan Crowther chronicles the story and stories about Master Chef Roland G. Henin and his impact on cooking in America. Over 50 chefs and past students of Chef Henin contributed to the book and the author, Susan Crowther, herself a student of Chef Henin, provides insight into this "chef's chef", … "his way is to instruct, inspire, transform … to produce great chefs." The book's foreword by one of Chef Henin's most well-known students, Thomas Keller, states, "… Chef Henin summed it up: There is a reason that cooks cook. And that reason is to nurture people. … Chef Henin's words became my guiding principle …" Chef Thomas Keller summed up Chef Henin, "There was Zeus, and there is Roland, god of cooking."
Chef Brian Williams, director of external relations at Le Cordon Bleu North America and owner of the Big Wave Café in Manzanita, contributed to the book and is on that list of "chosen ones" – mentored by Chef Roland Henin. "I'm honored and excited to have the opportunity to introduce our local community to my mentor and friend Chef Roland Henin," said Williams. "…I believe it is my skill as a fisherman that keeps bringing him back to my restaurant. Chef Henin loves seafood, and as I'm the chef of a seafood restaurant, we have a lot in common." Another commonality is Chef Williams' mentoring of dozens of students at Le Cordon Bleu and his restaurant.
Chef Henin's life story is about cooking and his contributions to great food, but the journey has really been about producing great chefs. Proceeds of book sales and the event are donated to MENT'OR, www.mentorbkb.org, proud sponsor of the BOCUSE D'OR TEAM USA – the Olympics of culinary competitions and a leading nonprofit organization devoted to inspiring culinary excellence in young professionals, preserving the traditions and quality of cuisine in America. To honor the Frenchman who devoted his life to mentoring American Chefs: Master Chef Roland G. Henin, a fundraiser has been established at https://www.gofundme.com/RolandGHenin. Enjoy this fantastic read – the stories of all these great chefs, from celebrity to behind-the-scenes unsung heroes. Purchase your copies of the book and have them signed by Master Chef Roland Henin in Tillamook on December 9th from 2 to 4 pm. For tickets go to www.chefrolandintillamook.eventbrite.com.
Another opportunity to meet the Master Chef is that evening, December 9th from 6 to 7:30 pm, Chef Henin will be available at Cloud & Leaf Bookstore, 148 Laneda Avenue in Manzanita, which has copies of the book, for signing and Q&A with appetizers by Big Wave Café.
For more information about the events, go to Le Cordon Bleu's website www.chefs.edu the Big Wave Café's Facebook page, www.oregonsbigwavecafe.com or call 503-368-WAVE(9283).