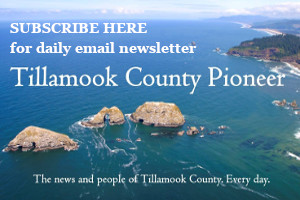 By Laura Swanson
Photos by Bill Hassell
Rockaway Beach is still reeling from the drownings last week of visitors from Colorado. A community memorial at the Rockaway Beach Wayside was held on Sunday June 10th. Candles were lit, prayers were said and flowers were laid in memory of the father and son who lost their lives while recreating in the ocean off Rockaway Beach.
The memorial was well attended and many expressed their sorrow about the events. Since this tragedy, there was been much discussion about what to do, and many have identified that more needs to be done.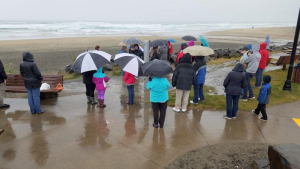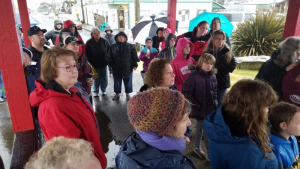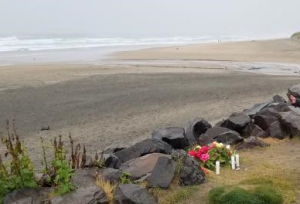 Many people have expressed concern about the lack of signage for rip currents, sneaker waves and undertow. A review of the dozens of beach access locations throughout Rockaway Beach this week by the Pioneer found that nearly ALL the beach accesses have ZERO signage, or the ones that do, are "generic", jumbled, poorly located and/or deteriorated to the point of being unreadable.
The Tillamook County Pioneer, Rockaway Beach residents Don Best and Bill Hassell, along with numerous other community members are spearheading a series of projects to create warning signs on the beach, brochures about beach safety, and increased education/outreach to residents and visitors.
With the upcoming low tides, aerial photographer Don Best is planning to fly the coast on Friday June 15th and take photos of all the beach areas. These images will be evaluated and areas of identified rip currents on the county beaches will be highlighted and featured on informational posters to be distributed through the Pioneer to retailers and sites near beach accesses, as well as to all the hotels, vacation rentals and retail outlets.
Regular Rockaway Beach walkers have related stories of advising people on the beach about the dangers, and some of the varying reactions. Don Best, with his family home right on the beach front, has regularly observed people in unsafe places, and just one week after the drownings Don sprang into life-saving action. While chatting on the phone the Pioneer on Tuesday June 12th, Don said, "There are three teenagers out in the surf in front of my home," he paused. "They are up to the waists, oh, wow, now they've waded in up to their shoulders. Oh, I gotta go …" After about ten minutes, Don calls back and explains, "When I got to the beach, I yelled and motioned for them to come in, and as they did, only one was wearing a wet suit, the other two were clearly exhausted from the cold and currents. I explained to them about the rip tide and showed them that they were just a few hundred yards from it. And then I told them about the recent drownings. They had heard nothing about the dangers or the drownings. We must do a better job of letting people know." Best reports that several times a month he witnesses people in the ocean during outgoing tides or near the rip tide. "Most of the time people take my warnings seriously and are very thankful for the information, but sometimes people are just going to do what they want to regardless of warnings, but we can do a lot more with signage and education."
Tourism campaigns invite people to enjoy the beauties of our beaches, oceans, rivers and more, but fail to provide adequate information and education about the dangers and how to recreate safely, to enjoy the natural beauty and not become an accident statistic. The impact that such tragedies have on our search and rescue, first responders and community members is damaging and traumatic. If we want people to visit our coast, we are inviting them, we have a responsibility to provide information about doing so safely, so they return for many years to come to embrace the wonders of Tillamook County.