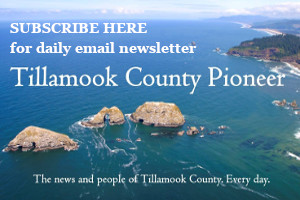 By Laura Swanson
I received the photos of the graffiti on Rockaway Beach's iconic old growth cedar Friday evening, July 3rd, and was heartbroken. "Oh, NO!!" was my text in reply. I've written multiple feature stories about this impressive, unique tree before the boardwalk, when you had to navigate a muddy trail. I was stunned that someone could conceive of desecrating something that has stood through centuries with a tagline, surely intended to discredit and cast shame on one of the rallying cries for racial justice. The Pioneer did not post photos of the original graffiti and tagging, and requested that social media sites remove the images of the graffiti to not give the taggers any notoriety, no clicks or views of the "work."
As I walked into the nature preserve yesterday afternoon with arborists David Sip and Joey Zink we marveled at the beautiful, just completed 1/2 mile boardwalk that now takes you all the way back to this special tree. As David commented, "Fortunately, I don't have any experience with removing graffiti from trees, but let's see if we can just erase it." From our research, the sooner the paint was removed the better because of the porous nature of cedar bark. With the thickness of the bark, the best method, that would have little or no impact on the tree was to simply "erase" or rub off the paint.
Which is exactly what Rockaway Beach public works employees accomplished Monday morning. Using wire brushes, the public workers removed the black spray paint and the old growth cedar breathes a sigh of relief with the rest of the community.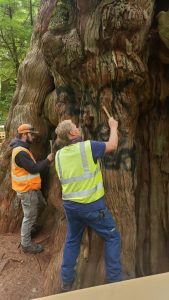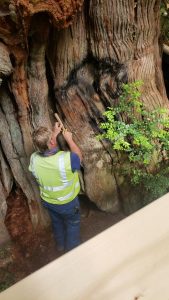 As you can see from the photos below, there is now no sign of the graffiti.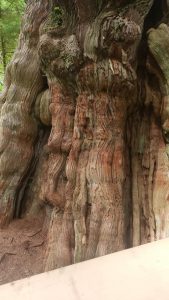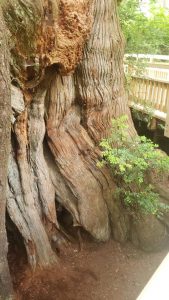 As Rockaway Beach Police reported, there have been other minor incidents of vandalism at the nature preserve and in the surrounding neighborhood. Residents are advised to review any security camera footage and share any information with the police as an investigation continues. If you have information about the vandalism incident that occurred on July 3rd sometime after 10 am, please contact the Rockaway Beach police at 503-374-1726.
There will be a community effort to provide cameras to deter future vandalism and protect this one-of-a-kind nature preserve.