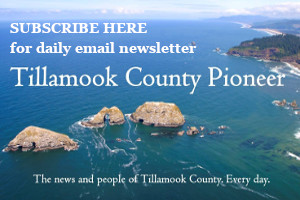 Story & Photos By Robin Swain
What do you do when you are serving in the United States Marine Corp, your fiancé is serving in the United States Navy, and you want to get married? You meet in the middle. For Jared Moore and Kaitlynn Anderson, the middle happened to be Rockaway Beach, Oregon. A simple solution. However, like every wedding or elopement, there were wrinkles.
Kaitlynn is from the Midwest and due to work schedules, her family was unable to attend. Last-minute work schedule changes prevented their witnesses from making it as well.  Jared's dad Keith Moore, who flew in from New York, was one witness but they still needed one more.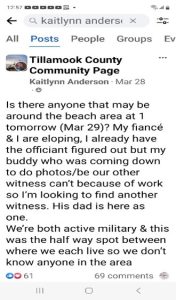 So, what do you do? Put a post on the community page. In true Rockaway Beach fashion, the community stepped up!
Well over 60 people offered to help them achieve their happy day!  Kaitlynn and Jared want to especially thank Patricia Papineau for providing a beautiful boquet and being their second witness.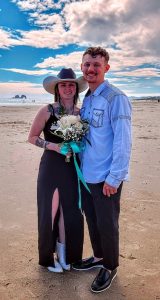 Rockaway Beach wishes you two much happiness! We hope you will come back with your family and renew your vows one of these years. Just post on the Community page…we will show up again!