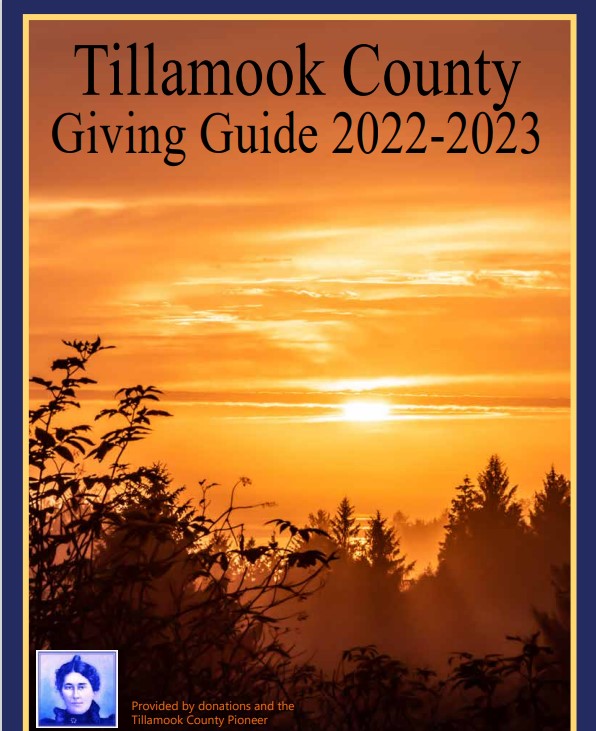 By Laura Swanson, Tillamook County Pioneer
Our local EMTs see a lot of difficult situations, and a call for an ambulance on Wednesday afternoon brought yet another dilemma. They transported a person that had just walked out miles through the snow, after their van had became stuck miles in the Coast Range, off of Hwy. 6. The owner told them that he had been living up there for weeks, it snowed, he got stuck, and when his food ran out, he hiked out, and he had left a dog in the van. The EMT on duty, Nick Watts transported the person to the hospital, with the go-ahead, "Do what you need to," from his supervisor Charles Saxton at Tillamook Ambulance, Watts headed back out Hwy. 6, and hiked into the area. "It was brutal, over three feet of snow, and it was getting dark. I had to turn back," explained Watts. A sleepless night followed …
The next day Watts enlisted help from Mark Torrence, a retired paramedic and on Tillamook Search and Rescue. "We figured with Mark's 4-wheel drive we'd be able to drive farther up, but that wasn't the case, and after going as far as possible in the truck, and then more hiking, we still hadn't reached the van," said Watts. "I was so disheartened. I needed to save this dog, every life matters," said Watts. Returning to the truck after the second hike, they planned to return to town and get a quad. As they were coming down Hwy. 6 at about milepost 11, they see a Tillamook PUD crew, cleaning up from the power outages and storms. "When all hope was fading after the second unsuccessful hike in we came upon Tillamook PUD with a Kubota side by side with tracks," said Nick. "We explained the situation, and clearing it with supervisors, they heroed up and got me to the abandoned van."
According to Mark Torrence, "God bless PUD and their crews. After some back and fourth I drove one of the crew out to get cell service and ask permission. We got it and went back and got the dog out."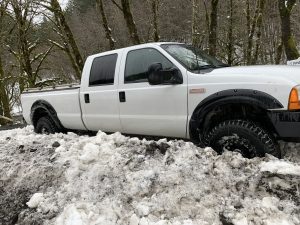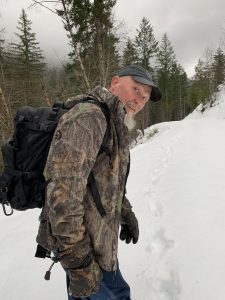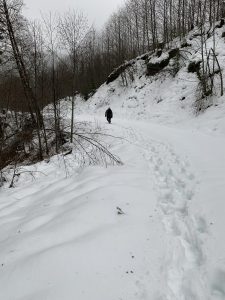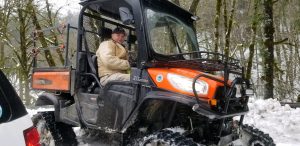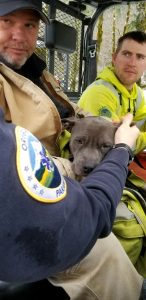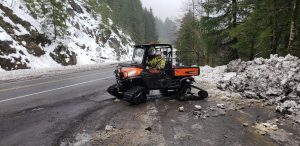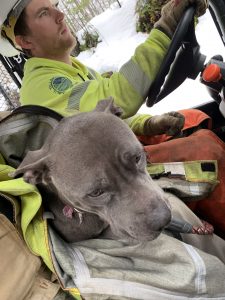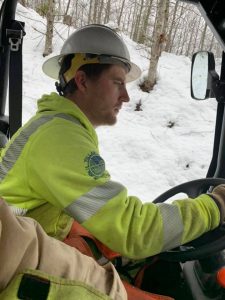 Watts continued, "Prayers answered. Thank you Mark Torrence for all your help and Tillamook PUDs Elijah Arvin heroes both of you." Heroes all of you – from Tillamook Ambulance, Tillamook PUD to 911 Dispatch, said Watts, "A huge shout out to Tillamook Dispatch 911, always first in to save a life and too often unsung." He continued, "They as always were instrumental in bringing in resources and coordinating efforts … even checking on a couple old paramedics walking in the snow. They were there every step of the way."
And the community has been there, too when the story spread throughout social media. The pup name Rose or Rosie for her Valentine's time rescue was checked out at Nehalem Animal Healing. After some initial foster homes, Rosie is now at Tillamook Animal Shelter awaiting her forever home.
From Tillamook Animal Shelter's Facebook Page: This is Rosie. You may have heard about her recent ordeal. She was left in a van in deep snow up in the forest. Miraculously she was rescued by a local paramedic and a Tillamook People's Utility District employee. You can read her whole story in a previous post I shared on this page. She's been through a lot obviously and she's having some hiccups in adjusting. She is a sweet dog She would like to be someone's spoiled puppy instead of sharing. She needs a patient new family that can help her feel secure and loved. No other pets in the home, she's not mean, just jealous. She's a food guarder too so no little kids. Do you want to spoil this sweetie? She desperately needs to know love. Tillamook Animal Shelter will be open on Friday to meet her but applications are being taken. The link to our online application here Or, go to Tillamook Animal Shelter's Facebook page or tillamookanimalshelter.org.