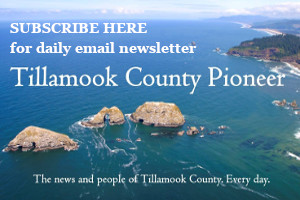 The reverse 911 system was utilized yesterday evening to alert Beaver area residents to lock doors and stay inside, and social media sites erupted with "What's going on?"
Today about noon, Salem Police Department released the following information:
November 14, 2017
Salem Police detectives with the assistance of the Tillamook County Sheriff's Office and Oregon State Police SWAT arrested a subject on multiple outstanding warrants on the evening of November 13, then later charged him in the murder of Kenny Kalugin.
Twenty-one-year-old Jose Ricardo Barboza-Manzo was located at a residence in unincorporated Tillamook County on Monday afternoon. When he refused to obey commands to exit the residence, Oregon State Police SWAT was activated to assist in the arrest.
Barbanzo-Manzo later surrendered and was taken into custody without further incident. In addition to warrants for his arrest on charges of:
Felony Attempting to Elude,
Misdemeanor Attempting to Elude,
Reckless Driving and Harassment.
Detectives later charged him with:
Aggravated Murder,
Robbery in the First Degree, and
Unlawful Use of a Weapon
in the murder of Kenny Kalugin that occurred on November 10.
(Detectives investigate death in northeast #SalemOR, Salem Police Department·Saturday, November 11, 2017
Salem Police detectives are investigating a death in northeast Salem.
Officers responded to an alley west of the 1800 block of Liberty ST NE shortly after 7:00 a.m. this morning on a report of an unconscious subject in a vehicle. Officers and medics located an adult male victim in a vehicle and confirmed he was deceased.
#UPDATE: November 13, 2017
The victim in this incident has been identified as 37-year-old Kenny Kalugin of Gervais. Autopsy results indicate that Kalugin died as a result of gunshot wounds.)
This investigation is continuing and no further information is being released at this time.