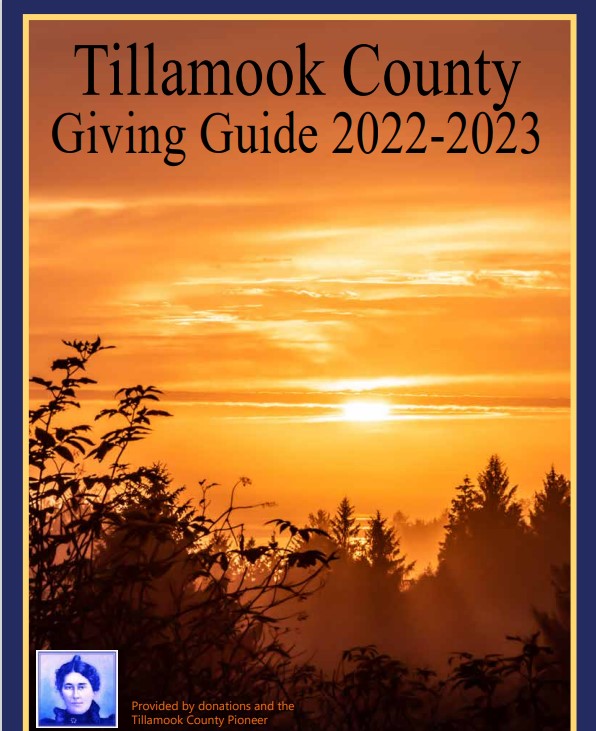 By Laura Swanson, Editor, Tillamook County Pioneer
Tillamook County is often the birthplace for innovative ideas and projects that serve as examples of what can be done when a like-minded group of people work together. The Salmon SuperHwy is one of those programs. This unprecedented effort will restore access to almost 180 miles of blocked habitat throughout six major salmon and steelhead rivers of Oregon's North Coast. Using a strategic, scaled approach to maximize benefits and minimize costs, a unique, community partnership will deliver a portfolio of 93 projects in 10 years. As of January 2021, SSH is almost halfway there with over 95 miles reconnected. Each year the Salmon SuperHwy reconnects more historic habitat, reduces chronic flooding, improves roads and infrastructure, increases recreation opportunities and stimulates the local economy.
The six adjacent major river systems that drain from the Coast Range into Tillamook and Nestucca bays on Oregon's iconic North Coast provide an historic opportunity to reconnect productive habitat with six species of anadromous (ocean-going) fish at levels and at a scale not seen in decades. Maximized connectivity of fish habitat at an unprecedented scale and optimized conservation return on investment is the goal, and The Salmon SuperHwy Project spanning the 940-square mile Tillamook and Nestucca landscape on Oregon's iconic North Coast has the strategy to get there – together.
Despite numerous challenges created by the pandemic and wildfires of 2020, Salmon SuperHwy partners persevered completing six projects reconnecting 14.7 more miles of habitat for fish, bringing economic uplift at a critical time while upgrading important transportation infrastructure. "With over 95 total miles reconnected, we're more than halfway to our goal of restoring 95% percent of the historically available habitat," said Sarah Zwissler, Salmon SuperHwy coordinator. "Thank you to all our partners for their brilliant collaboration and flexible solutions as we navigated 2020 while building connectivity and resilience across the Tillamook County region."
It takes a village. Or in this case, a county. "With your support, we have reconnected streams, improved infrastructure, tightened our community and invested in the future of our astounding are on the Oregon Coast," she continued. "Together, we are building momentum that will amplify results in the next five years making the Salmon SuperHwy a historic turning point in the health of our coastal community and species we're called to protect, while providing much-needed upgrades to road stream crossings." This is definitely a win-win for our communities – benefits to both environment and economy.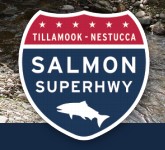 The Salmon SuperHwy braids our community together in exciting new ways. When you see a Salmon SuperHwy sign on a bridge, you can be sure a dedicated group of people made it happen. People that don't normally get to work together are teaming up.
Hundreds of locals and visitors are making a tradition of the Pelican Brewing Salmon Run to celebrate and support the Salmon SuperHwy. (And hopefully, this fundraiser will be back in 2022.) Some folks, previously skeptical any project could help the local economy as well as the fish population, now post selfies proudly showing off their SSH hats and sweatshirts.
"We take great pride in the work we're doing together. Working (and running) together, we're investing in Oregon's coastal resource legacy and creating a tighter community while we're at it," said Zwissler. "Our Salmon SuperHwy is truly the confluence of all the tributaries of our community."
Recognizing the importance of the partnership and project, the Joint Chiefs Landscape Restoration Partnership awarded the Salmon SuperHwy $1.2 million in funding over three years through US Forest Service and Natural Resource Conservation Service. This funding supported survey, design, technical support, project construction, monitoring, and forest management. The Salmon SuperHwy serves as an example of how private landowners and local, state, and federal partners work together to accomplish conservation and management goals.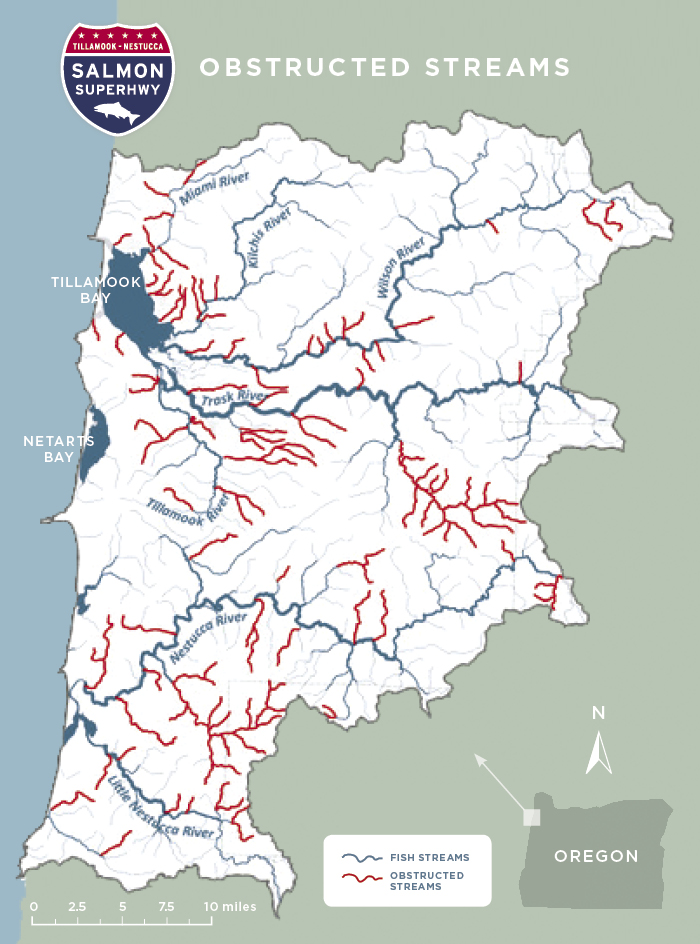 Hundreds of barriers in streams still create bottlenecks throughout Oregon's coastal watersheds, creating major problems for fish and people. Most are problem culverts at road crossings that contribute to flooding and road damage, along with some small dams and tidegates. Collectively, these barriers can also prevent the full benefit of decades of habitat restoration and other conservation investments from being realized. Minimizing these impacts across a major landscape will come with significant, lasting benefit to fish and people, now and into the future.
Salmon, steelhead and other ocean-going fish need to access a wide range of different types of habitat throughout their freshwater life cycle to survive. Fish biologists call this "habitat connectivity." Big, adult fish need to be able to travel from the ocean to reach spawning grounds in rivers and small streams, and juvenile fish need to access different habitat types to feed, mature and escape predators, storms and other dangers before eventually migrating out to sea.
Traditionally and by necessity, much of the work to restore access for salmon and steelhead with diverse types of habitat they need has been tackled on a project-by-project basis, as opportunity and funding comes together. This approach has led to a tremendous amount of critical habitat work getting done over decades, nowhere more than on the North Oregon Coast. What is still needed to maximize the fruit of all that labor is a comprehensive strategy linking all those projects and their benefits together, and to remove bottlenecks that are preventing full realization of the conservation benefits for entire populations of fish throughout a broad landscape. The Salmon SuperHwy is providing that strategy, and accomplishing the boots-on-the-ground projects. For 2021, SSH projects and goals include:
•10 projects to reconnect over 27 miles of habitat
•Support the return of 6 species of ocean going fish species to historic habitat
•$4.6 million will be leveraged
•Leverage secured funds with new funding strategies
•Uniting more landowners with local, state, and federal partners to meet goals
Tillamook County Public Works is working with SSH to put in a request for transportation related funding from Congress under the new "Community Projects Funding". If successful in attaining the funds, this would bring much needed transportation related funding to Tillamook County and the Salmon SuperHwy effort, and help our County build climate resilient infrastructure while reconnecting important habitat for fish.
SALMON SUPERHWY – WHAT'S NEXT?
• 10 projects planned for construction 2021
• 15+ projects in planning stage
• Strategic Action Plan completed for 2021 – 2026
• Leverage momentum for funding and donations
• Continue awareness bolstering local, state, and federal support
• Data gathering and case studies for future use
SALMON SUPERHWY PARTNERS
LOCAL: Tillamook County, Tillamook Estuaries Partnership, Tillamook County Creamery Association, Tillamook Bay Watershed Council, Nestucca Neskowin Sand Lake Watersheds Council
STATE: OR Dept. of Fish and Wildlife, OR Dept. of Forestry, OR Dept. of Transportation, OR Watershed Enhancement Board, OR Fish Passage Task Force
FEDERAL: US Fish & Wildlife Service, US Forest Service, Bureau of Land Management, Natural Resources Conservation Service
NGO: Trout Unlimited
WHAT IS A SALMON SUPERHWY?
•Interconnected networks of rivers, streams, creeks and wetlands
•Connects the mountains to the ocean, communities to nature, and people to fish
•Absorbs storms, delivers water, and distributes fish and nutrients throughout entire landscapes
•Identity, community and economy of coastal Oregon is built around its Salmon SuperHwys
WHAT IS THE SALMON SUPERHWY PROJECT?
• Strategic, collaborative partnership
• 93 projects in 10 years reconnecting waterways by removing in-stream barriers
• Restores nearly 180 miles of blocked habitat
• Uses a strategic, scaled approach
• Maximizes benefits while minimizing costs
• Reduces chronic flooding, protecting infrastructure
• Supports and improves recreation opportunities
• Stimulates the local economy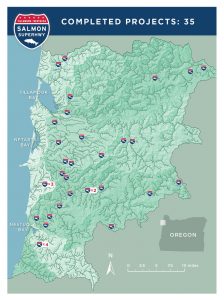 PROJECT PROGRESS: 2014 – 2020
• 35 projects completed
• 95+ miles reconnected
• $10.7 million funding leveraged
• 160 jobs created
• Landowners united with local, state, and federal partners to meet goals
• Partnership track record builds community and funder support
PROJECT BENEFITS
• Reconnected waterways provide migration corridors for fish and wildlife
• Access to spawning and rearing habitat for fish, cold water refugia, shelter from storm flows
• Replace failing culverts with climate resilient infrastructure for the future
• Reduced flooding and road washouts from undersized, clogged culverts results in safer roadways
• Economic benefit of project engineering and construction, and less interruption of local industry due to road failure
PROJECT HIGHLIGHTS: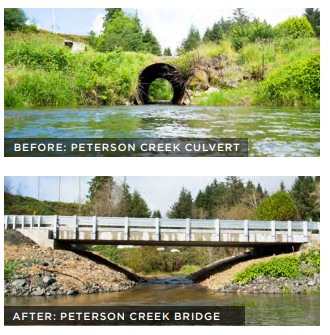 PETERSON CREEK – TEP • 6.2 miles of threatened habitat reconnected for 5 fish species • Undersized and failing culvert replaced with bridge minimizing storm damage and local industry interruption • County road maintenance burden reduced •Priority "lifeline" alternative transportation route improved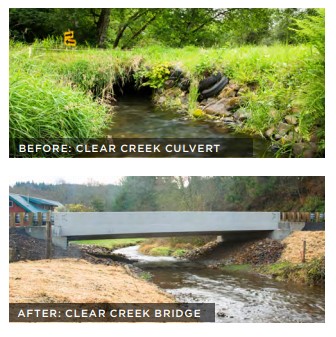 CLEAR CREEK – NNSLWC • 4.4 miles of spawning and rearing habitat reconnected, and stream processes restored • Undersized and failing culvert replaced • County road maintenance reduced • Road safety improved
TOMLINSON CREEK • 0.5 miles of stream habitat 5 fish species and other aquatic organisms • Worked in cooperation with private landowners • Replace one undersized and failing culvert with a bridge, and removed another altogether, reopening stream channel.
SALMON SUPERHWY FUNDING
• Oregon Watershed Enhancement Board • NOAA Restoration Center • US Fish & Wildlife Service • US Forest Service • Bureau of Land Management • Natural Resource Conservation Service • OR Department of Fish & Wildlife • OR Department of Forestry
• Tillamook County Public Works
• And many others
For more information, go to www.salmonsuperhwy.org