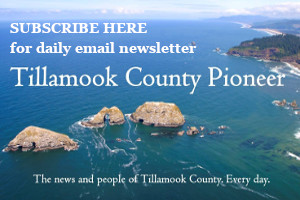 By Laura Swanson, Editor, Tillamook County Pioneer
"It's been a process," said Salmonberry Saloon co-owner Chantelle Hylton. About all the work involved with the much-anticipated (and coming soon) opening of the Salmonberry Saloon on the waterfront in Wheeler in the former Tsunami Grill location.

The establishment's deck and views are one of the best in the area and the favorite for many, including this writer and the Pioneer team.  When we visited, the NEW DECK had just received a fresh coating of sealant. Hylton and her partner Patrick Rock started this journey in October of 2016, and the purchase of the building was complete in March of 2017. The remodeling, cleaning, and upgrading has been extensive and they have been at it nearly every day since. "We are doing this the right way," added Hylton. "This pre-opening concert is our way to give the community a peek at all that's been going on, and to share some wonderful music."
On Sunday August 13th, the Salmonberry Saloon welcomes Chris Thomas King, Grammy-award winning Blues artist, the "King of New Orleans Blues" and film star for two shows – an all-ages matinee from 4 to 6:30 pm and a 21 and over show from 7:30 to 10 pm. The evening show is sold out, but there are tickets still available for the all-ages matinee show, go to this link for tickets – http://bpt.me/3049833. "We know how much you miss this place," said Hylton. "Come see your new old haunt 74% finished and help us bring more good juju back to this magical place." Here's a glimpse of the work in process …
Local food from Manzanita Farmers Market favorite's kabob vendor, beer, wine and featured cocktails will be available. Limited seating and tickets for this pre-opening event.
Hylton's background in music booking at various Portland venues and in New York are sure to be in play as the Salmonberry Saloon anticipates opening in the near future. "We aren't setting a date for the official opening, but it will be soon," said Hylton. "All good things take time, and we intend this to be a very good thing, so we are taking the time necessary to get it right. This is truly a special place that was in need of a lot of TLC."
Salmonberry Saloon's menu will surely compliment the great view and features locally sourced foods and produce to showcase the bounty of the region. From starters featuring seafood steamers and Netarts Bay oysters, along with "squidward" (calamari) and "yard bird" (chicken wings) to the requisite clam chowder and "smoke on the water" smoked salmon chowder, salads with Nehalem River Valley greens to entrees including classic fish and chips, captain's platter and a Wheeler burger featuring Nehalem beef and fish tacos. A happy hour menu that includes poke and a "surfer-slam-burger" with the description that reads "Making this is all I ever really wanted to do with my life …" there truly is something for everyone on this fun menu.
Join Chantelle and Patrick for a pre-opening music celebration on Sunday August 13th with Blues King Chris Thomas King for two shows. Here's a clip from "Brother Where Art Thou". https://youtu.be/fgcWfVvT_UM Tickets are sold out for the evening show but tickets remain for the all-ages matinee show. For more information, like Salmonberry Saloon on Facebook or go to their website at www.salmonberrysaloon.com. Watch for more information and regular updates about the official opening of the Salmonberry Saloon coming soon.