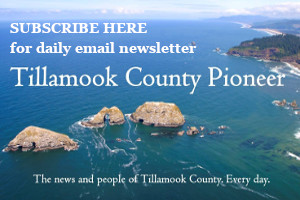 Fall 2011 – The Port of Tillamook Bay (POTB) and Tillamook County approached the state and Cycle Oregon with a request to help explore a vision for creating a trail​ within the corridor of the former Pacific Railway and Navigation Company line from Tillamook to Banks. In response, the Salmonberry Coalition was formed​. Initial members included: ODF, OPRD, POTB, Tillamook County, ODFW, the Oregon Coast Scenic Railroad, Cycle Oregon, State Senator Betsy Johnson, and the North Coast Regional Solutions Team. That led to a Memorandum of Agreement signed in 2012 between POTB, ODF, OPRD, Tillamook County, and Cycle Oregon​, with contributions of funding ($200,000) to support the initial study and planning efforts for the project.
Spring 2013 – Winter 2014/15 – Walker-Macy conducted the initial feasibility study researching history, current conditions, and future opportunities. The concept plan, approved in 2015, was developed through a public process​ that included a series of meetings in the Banks and Tillamook areas, also led by Walker-Macy.
Fall 2013 – The Tillamook Forest Heritage Trust joins the Salmonberry Coalition as the non-profit partner to facilitate fundraising efforts for the project. Representatives from POTB, Cycle Oregon, Tillamook County, and Senator Betsy Johnson, join the Board of Trustees for the TFHT.
February 2014 – Senate Bill 1516 is signed into law​, providing the following direction… "The State Parks and Recreation Department and the State Forestry Department shall, in cooperation with other interested state agencies, local governments, nonprofit organizations and other stakeholders, develop a plan to construct a trail along or adjacent to the portion of the former Pacific Railway and Navigation Company line​ between Banks and Tillamook, to be known as the Salmonberry Trail."
2015 – Governor Kate Brown designates the Salmonberry Trail governance determination process an Oregon Solutions project​. The Salmonberry Trail Intergovernmental Agency is formed by POTB, ODF, OPRD, and Tillamook County. Eight additional governmental, nonprofit and tribal entities and officials agree to participate as ex-officio members.
2015-2017 – Local Code Adoption Project ($124,000) – The Salmonberry Trail local code adoption project was funded by a grant from the Oregon Transportation and Growth Management (TGM) Program. The POTB managed the code project on behalf of the two agencies​, Oregon Department of Transportation (ODOT) and the Oregon Department of Land Conservation Development (DLCD), and contracted with DKS and Parametrix to conduct this effort. Necessary amendments to local land
use and other plans that will facilitate trail development were identified and recommended to local governments in Tillamook
County. Most local plan amendments have been completed and the remainder are pending.
2016 – 2017 – Supplemental Planning in Coastal Segment ($100,000) – Tillamook County Transient Lodging Tax Facilities program funded critical supplemental planning where zoning or ecosystem amendments needed to be considered. This supplemental planning accomplished more detailed planning along this segment, identifying trail location options for rail-with-trail and rail-to-trail alternatives, and associated costs. ​ A Coastal Segment Advisory Committee was convened to support this effort and remains in place as a forum for input. POTB Board member Jack Mulder, Co-Chaired the committee, and OCSR participated as a committee member.
2018 – The City of Tillamook is planning to construct an initial mile of The Salmonberry trail from Goodspeed Park in downtown Tillamook, north to Hoquarton Slough Park​. This trail will be located adjacent to the POTB rail line south of Hwy 6, and follow an abandoned spur line to the north of Hwy 6. The City has also submitted a TLT Facilities Grant application for funding to study alternate trail routes and design for the segment connecting Hoquarton Park to Latimer Road.
To date, Salmonberry Coalition and STIA member agencies have raised and contributed over $2,000,000 for the planning efforts and projects described