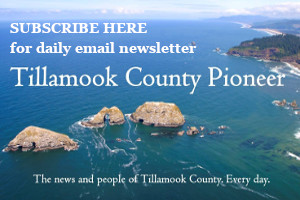 The Tillamook County Historical Society (TCHS) is pleased to announce it has funded a reprinting of the Dr. Huckleberry memoir. With the permission of the Oregon Historical Society, TCHS member Karen Hirte has spent three years scanning text, upgrading photos and preparing the book for publication. "The Adventures of Dr. Huckleberry: Tillamook County, Oregon," has been out of print for some time and with the help of Karen …and the Jewell High School Graphics Students, the book has been brought back to life.
The Garibaldi Maritime Museum has a collection of Dr. Huckleberry memorabilia and is hosting a reception for the book's reprinting and to thank Karen for all her hard work on this project. Join us Saturday, May 13th at 1 p.m. for a chance to buy a copy of the book and enjoy the Garibaldi Museum's Huckleberry exhibit.
If you have any stories about Dr. Huckleberry, please come and share them with us.
The Garibaldi Maritime Museum is located at 112 Garibaldi Ave., Garidbaldi, Oregon.
For more information call the Garibaldi Museum at 503-322-8411 or Sally Rissel at 503-781-4102.