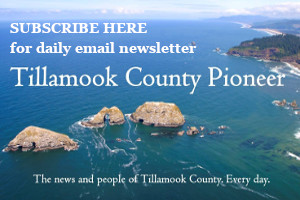 Tillamook County 4-H members that plan to continue their education may be interested in several scholarships that are available from the Tillamook County and the Oregon 4-H programs.
The Tillamook County 4-H Association administers the Tillamook County 4-H Scholarship ($1,000); 4-H Project Leadership Scholarships (up to $400); and 4-H Ice Cream Booth Volunteer Scholarships ($100/year of volunteer time up to $500). Applicants must be high school seniors and a current 4-H member. These scholarships can be used at a university, community college or trade school.
A complete list of eligibility requirements is included in the application materials available at the OSU Extension Office in Tillamook or on the Tillamook County 4-H website: https://extension.oregonstate.edu/4h/tillamook/awards-scholarships-recognition.
Applications must be submitted to the OSU Extension Office, 4506 Third Street, Tillamook by 5 pm, March 2nd, 2020.
Numerous 4-H scholarships are also available through the Oregon 4-H Foundation for high school seniors who are current 4-H members and who have been members for a minimum of 3 years, as well as for 4-H members that have participated in county fair leadership roles for at least 2 years. Applications for all of these scholarships are due by 5 pm, February 25th, at the OSU Extension Office, 4506 Third Street, Tillamook, OR 97141. Check out the state 4-H website for complete information on the various scholarship requirements at: https://extension.oregonstate.edu/4h/college-scholarships
For more information contact Dakota Lager, Dakota.lager@oregonstate.edu, 503-842-3433



About OSU Extension: The Oregon State University Extension Service shares research-based knowledge with people and communities in Oregon's 36 counties. OSU Extension addresses issues that matter to urban and rural Oregonians. OSU Extension's partnerships and programs contribute to a healthy, prosperous and sustainable future for Oregon.