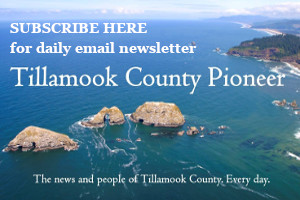 North County Recreation District (NCRD) Performing Arts Center presents NEHALEM WINTERFEST.
Three great musical acts guaranteed to counteract the dreary days of winter starting Friday February 8th, Saturday February 9th and Sunday February 10th. Here's more about each of the musical acts:
Friday, February 8, 7:30 pm
KATE & THE CROCODILES – An innovative classically-trained vocalist; an energetic and soulful keyboardist; the intuitive trumpeter of Pink Martini; and an amazing drummer, also with Pink Martini. These four musicians make up Kate & The Crocodiles, a perennial favorite in the Northwest and elsewhere.
Vocalist Kate Morrison began music training in high school and has performed in numerous competitions for classical vocal music. She placed in the top 10 vocalists in the State of Oregon and has won many awards, including the coveted National Arion Award for Music.
Gavin Bondi began studying trumpet in Portland, Oregon at the age of nine, piano at the age of 12, and voice at the age of 17. He played trumpet in every imaginable circumstance before joining Pink Martini in 1996.
Originally from Alaska, Craig Bidondo studied piano and music composition in Los Angeles before moving to the Portland area to embark on a career as a soloist and group artist throughout the Northwest, exploring jazz, classical, rock, new age, and gospel music.
Brent Follis can remember picking up a pair of wooden spoons, and tapping out rhythms on old popcorn tins. Since then, his journey in music has led him across the country and around the globe, in search of inspiration and culture. Needing to fulfill his yearning for diversity, culture, and thin crust pizza, he moved to New York City, and later to Portland and Pink Martini.
Saturday, February 9, 7:30 pm
THE PACIFIC QUARTET – 2017 And 2008 Grammy Award Winners
San Francisco – New York – Chicago – Houston – Australia – Denver – Tokyo – Montreal – London – NEHALEM!
Recognized for its virtuosity, exuberant performance style and often-daring repertory choices, the Pacifica Quartet has achieved international recognition as one of the finest chamber ensembles performing today. Named the quartet-in-residence at Indiana University's Jacobs School of Music in March 2012, the Pacifica was previously the quartet-in-residence at the Metropolitan Museum of Art and received a Grammy Award for Best Chamber Music Performance. In 2017, the Pacifica Quartet was appointed to lead the Center for Advanced Quartet Studies at the Aspen Music Festival and School.
Formed in 1994, the Pacifica Quartet quickly won chamber music's top competitions, including the 1998 Naumburg Chamber Music Award. In 2002 the ensemble was honored with Chamber Music America's Cleveland Quartet Award and the appointment to Lincoln Center's CMS Two, and in 2006 was awarded a prestigious Avery Fisher Career Grant. In 2006, the Quartet was featured on the cover of Gramophone and heralded as one of "five new quartets you should know about," the only American quartet to make the list. And in 2009, the Quartet was named "Ensemble of the Year" by Musical America.
Sunday, February 4, 2:00 pm
MEL BROWN QUARTET
The festival concludes with a performance by the iconic jazz legend Mel Brown and his very talented quartet – keyboardist Tony Pacini, guitarist Dan Balmer and bassist Ed Bennett. The Mel Brown Quartet came together in the fall of 2002 at Jimmy Mak's, a popular jazz club in Portland. All seasoned jazzmen, the group has become a mainstay in the Portland jazz scene playing to enthusiastic, full capacity crowds at every appearance.
Pianist – Tony Pacini – The jazz piano artistry of Tony Pacini has been enthusiastically enjoyed by nightclub and festival audiences throughout the West Coast as well as in his hometown of Portland, Oregon. In addition to his own trio, Tony has performed with Antonio Hart, Benny Golson, Bill Henderson, Bud Shank, Byron Stripling, Carl Sanders, Chuck Israels, Chuck Redd, Curtis Fuller and a host of other musicians. Additionally, Pacini is an On Air Host with KMHD Jazz Radio 89.1 fm Portland and is the musical director of the Mel Brown Quartet.
Guitarist – Dan Balmer – Considered the finest jazz guitarist in Oregon, Dan has performed or recorded with jazz legends Joey DeFrancesco, Airto, Red Mitchell, Bill Mays, Steve Smith, Pat Martino, Bud Shank and Joe LaBarbara. As a popular bandleader and sideman Dan's unique guitar sound graces over 70 recordings.
Bassist – Ed Bennett – Long considered one of the West Coast's premiere string bass players Ed has worked, toured and recorded with numerous legendary jazz figures including Dizzy Gillespie and a host of others. Ed has been featured on two Grammy nominated recordings; Toshiko Akiyoshi-Lew Tabackin Big Band "Tanuki's Night Out" and Carmen McRae "At The Great American Music Hall."
Drummer – Mel Brown Mel performed with Motown legends Diana Ross and The Temptations, Martha and the Vandellas, Stevie Wonder, The Temptations, and Marvin Gaye. In addition to leading several high profile combos, Mel's rock-solid time and high-energy solos have made him the drummer of choice for jazz superstars Leroy Vinnegar, Monty Alexander, Teddy Edwards, Lou Donaldson and Joey DeFrancesco.
In 1999, Mel was inducted into the Jazz Society of Oregon Hall of Fame. Throughout his career he also played and performed with the Oregon Symphony.
Advance ticket sales for all shows are available at tickettomato.com.
NCRD Phone Number: 855-444-6273
Website: www.ncrd.org
For more information: www.facebook.com/ncrd.org
Website: www.ncrd.org
Phone: 855-444-6273 or 971-308-0309
NCRD Performing Arts Center
36155 9th Street
Nehalem Oregon