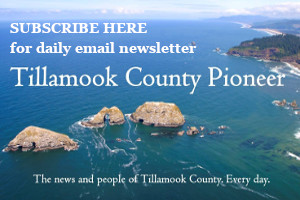 The City of Tillamook, the Tillamook Bay Watershed Council (TBWC), Tillamook Estuaries Partnership (TEP), and the Tillamook County Historical Society (TCHS) have joined forces to organize the second Waterfront Work Party for April 27th. As with the successful March work party, efforts will focus on the removal of invasive plants and restoration of trails and viewing docks along the city's historic waterfront parks from 9:00AM and 3:00PM. The community is encouraged to join the fun anytime during those hours. The City is providing pizza and soft drinks and the TBWC, TEP and TCHS are providing gloves, tools, volunteers, and native-plant expertise.
"We were blown away by how much our volunteers got done at the first party," said Rob Russell, Coordinator for the TBWC and President of the TCHS. "It was exciting to see everyone's hard work pay off, and to uncover some beautiful, forgotten places that were laying there just under the ivy and blackberry. It was especially fun to find the remnants of the old waterfront buildings, now covered in moss and fern."
The Hoquarton Slough frontage in downtown Tillamook was once a bustling port and industrial center until the late 1950s. The land adjacent to the US101 bridge was purchased by the City in the 1990s, and was developed into two waterfront parks — Hoquarton Park on the east side of the highway, and Sue H. Elmore Park on the west side. Hoquarton Park features an interpretive trail and viewing platforms along the water, while Sue H. Elmore Park offers picnic areas, restrooms, and a public ramp for paddling and boating. Goodspeed Trail borders Hoquarton Park to the south, and connects the waterfront parks with Goodspeed Park on Third Street.
The City of Tillamook is planning a grand re-opening of its waterfront parks and trail this spring, so stay tuned for more news. If you would like to volunteer for the Waterfront Work Party, meet us in the parking lot of Hoquarton Park on Saturday, April 27th between 9AM and 3PM, bring a friend, and help make history!
For more information & directions, contact the Tillamook Bay Watershed Council at 503-322-0002.