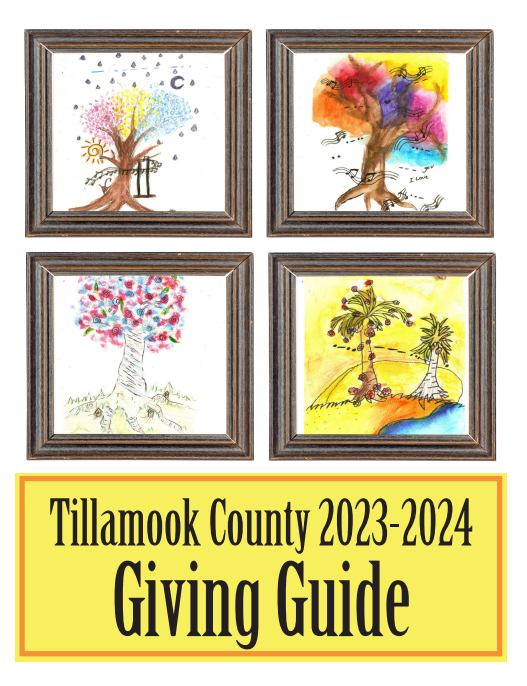 Throughout the month of September, survivors and allies, various organizations, mental health workers, and community members unite to share their stories, knowledge, and resources to promote suicide prevention awareness. Research has shown that acknowledging and talking about suicide can reduce suicidal ideation, and help to eliminate the stigma around suicide and mental health issues.
Suicidal thoughts can affect anyone. Findings in 2020 show that suicide was the second leading cause of death for youth in Oregon, ages 10-24. For adults over the age of 24, suicide is the 10th leading cause of death in Oregon. We have learned that suicide is preventable when individuals have the ability to recognize suicidal warning signs, are willing to engage in conversations about suicide, and are aware of resources they can share with those in need.
Virtual QPR Training
September 9th, 10am-11:30am (TFCC)
September 7 from 3:00PM-4:30PM (OSU Extension)
QPR (Question, Persuade, Refer) is a free suicide prevention training offered every other month, or as needed, through Tillamook Family Counseling Center. This free online training is evidence based emergency response to someone experiencing thoughts of suicide. Like CPR, the greater the number of people in our community that are trained in QPR, the more lives we can save by working together. Since the first training was offered in 2021, 228 people in Tillamook County have been QPR trained through TFCC. Additionally, 2 school staff members became QPR trainers. They have since trained a number of school staff at Tillamook School District and Neah-Kah-Nie School District.
QPR welcomes people of all backgrounds and knowledge levels, and provides a community space to learn, practice, and empower a deeper understanding of suicide prevention. The next opportunity to join this free virtual QPR training is September 9th, 10am-11:30am. To register, contact Janeane by email at JaneaneK@TFCC.org, or by phone at (503)842-8201 ext. 270. In addition, there is a virtual QPR Suicide Prevention Training for Farmers & Ranchers offered by OSU Extension on September 7 from 3:00PM-4:30PM. To learn more, https://extension.oregonstate.edu/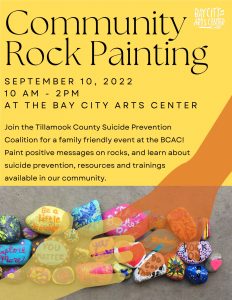 Tillamook County Suicide Prevention Coalition Community Rock Painting
September 10th 10am-2pm (Bay City Arts Center)
Tillamook County Suicide Prevention Coalition is an emerging group made up of Tillamook County residents who are concerned about suicide. This groups meets monthly to raise awareness of suicide prevention information and facilitate community prevention events. On September 10th from 10am-2pm, the coalition will hold a family friendly rock-painting event at the Bay City Arts Center. Attendees will be encouraged to paint positive messages on rocks to share throughout our community. The event will have information about suicide prevention available.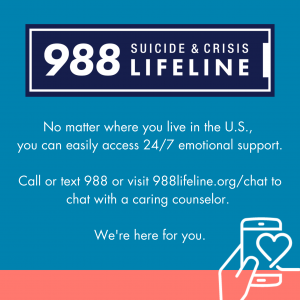 988 Suicide and Crisis Lifeline
National Behavioral Health Crisis Response System
988 Suicide and Crisis Lifeline, the national behavioral health crisis response system, is another suicide prevention resource. 988 is a free, confidential service anyone, including youth, may call, text, or chat with online when experiencing suicidal thoughts or self-harm, a substance use crisis, or any other kind of behavioral health crisis. This number is available to call, text, or chat online 24/7. Text and online chat is only available in English at this time. Calls are available in both English and Spanish. To learn more about 988, visit https://988lifeline.org/