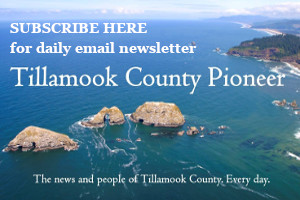 by KATU Staff
Wednesday, March 6th 2019
PACIFIC CITY, Ore. – A surfer says a shark bit his board off the Oregon coast on Tuesday, March 5th and Oregon State Parks and Recreation is warning other beachgoers about the incident.
The shark encounter happened near Cape Kiwanda.
The surfer, Nate Holstedt, said he saw a shark while he was sitting on his surfboard. He pulled his leg out of the water as it approached, and the shark then reportedly bit the board.
Holstedt got out of the water; he was uninjured.
"It missed my leg by six inches, man," he told KATU Tuesday night via phone. "I'm standing here right now untouched. I'm (expletive deleted) super thankful, man."
Holstedt said when the shark bit the back of his board, it pulled him underwater. He swam back to the surface, keeping the board between him and the shark. He then hopped back onto his board and swam back to shore.
Oregon State Parks and Recreation officials went to the beach and put up warning signs and told other surfers about the incident.

No word from officials on what kind of shark it was.