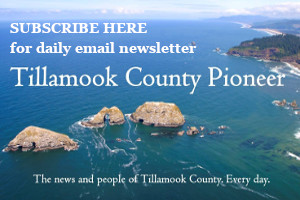 (Tillamook, OR, August 27, 2021 – 10:30 am)
Yesterday, August 26, 2021, Tillamook County Sheriff's Office Deputies, Officers from Tillamook Police Department (TPD) and Oregon State Police (OSP) responded to a residence in the South Prairie area of Tillamook County to locate two suspects that were involved in an altercation and subsequent shooting incident which had occurred earlier that morning.
"Travis Sherva, 42, and Ryen St Michell, 21, father and son, both of Tillamook were arrested following a disturbance and assault which occurred in the early hours of Thursday within the Tillamook city limits, and then escalated into a shooting incident that occurred within the county," said TCSO Detective Sgt. Michelle Brewer. "No one was injured in the shooting incident."
Sherva, St Michell and two other people finally exited the residence peacefully after several minutes of being called out by law enforcement.
Travis Sherva was lodged in Tillamook County Jail on charges of Menacing (x2), Unlawful use of a weapon (x2), Unlawful possession of a firearm, Criminal conspiracy (x2) and disorderly conduct (x2).
Ryen St Michell was lodged in Tillamook County Jail on charges of Menacing (x3), Unlawful use of weapon (x3), Reckless endangering (x2), Pointing a firearm at another, Tampering with physical evidence and Tampering with witness.
The two other people in the house at the time were released on scene. The weapon used in the shooting has been recovered. This investigation and apprehension was a collaborative effort between TCSO, TPD and OSP.