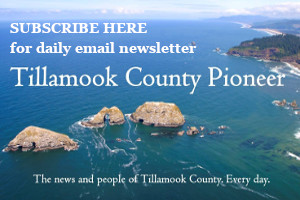 The Port of Tillamook Bay board has appointed Sierra Lauder to fill vacant Position #5 on the board. Three applications were submitted, and the POTB board unanimously appointed Lauder at their December 19, 2019 meeting.
Sierra has lived in Tillamook County for almost 20 years and is passionate about rural economic development and land use. Currently she is a real estate broker, and prior to that she worked for the Tillamook Area Chamber of Commerce as the Director of Events and Downtown Development. She has participated in many boards: Tillamook County Planning Commission, Community Arts Project, Tillamook Urban Renewal Agency, CARE, and watershed councils.
Sierra sees potential at the Port of Tillamook Bay, and will encourage it to be "an economic driver for the north coast, as well as an essential piece of resilience planning and transportation development". She also notes that the Port has valuable incubation space and the desired industrial zoning resource to embrace the future.
The board and staff look forward to working with Sierra and grow the Port's community participation and long-range planning for the industrial park and airport. Her background and insight in land use and planning, economic development, plus real estate and natural resource work, will be invaluable to board discussions.
The role of a Port commissioner is to make policy for the Port and fiduciary oversight (budgeting). Board members participate in other functions to represent the POTB, such as serving on the NW Area Commission on Transportation, Tillamook Lightwave board, Friends of Tillamook Air Museum, and the Salmonberry Trail Intergovernmental Agency. The five board members are elected for four-year terms. The Port has six departments and 21 employees. More information about the Port of Tillamook Bay can be found on our website www.potb.org. Port of Tillamook Bay Board meetings are open to the public and occur the third Thursday of each month at 6:30 pm at the Port office (new date/time).