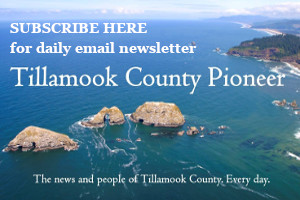 Sitka Center for Art and Ecology will host Your Art's Desire, a virtual fundraiser for the Sitka Youth Program on February 10, 2022 beginning at 5:30pm on Zoom. The event will commemorate the historic work of our predecessor Community Arts Project, celebrate the progress of the youth program now under Sitka's umbrella of high quality programming as well as recognize and reflect upon the dedication and hard work of our creative
Tillamook County youth artists and ecologists grades PreK – 8.
The evening will be filled with testimonials from former and current board members and program staff, school district teachers and administrators as well as current student participants of the art literacy and summer youth workshop series. Community members will enjoy a tour of the youth program through a video montage showcasing the creative projects and experiences we have provided to area youth over the last 15 months.
Register for the event here: https://www.sitkacenter.org/youth-program/youth-community-events
Your Art's Desire fundraising goal is to raise $15,000. Together we can achieve this goal through pre-event garnered sponsorships and a matching gift challenge to individuals and families at the event. Proceeds from sponsorships and event donations will support ongoing youth program growth and expansion into more schools and school districts throughout 2022.
Currently Sitka's Youth Program serves nearly 500 youth grades PreK – 8 during the school year with monthly art literacy education and hands-on art projects and over 100 youth during the summer youth workshop series, all at no cost to the students. The art literacy program provides youth an introduction to elements of art and principles of design while exploring current and historic artists from a variety of cultures and backgrounds. In the summer, youth workshops feature immersive high quality instruction from local and visiting artists and ecologists providing youth expanded time and advanced tools and materials to dive deeper into the art discovery and creation process.
For example, in 2021 Sitka partnered with visiting artist Jane Ingram Allen to create a "Living Quilt" community art installation in the Nestucca Valley Grade School community garden gaining news recognition in publications throughout the world!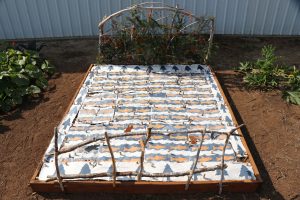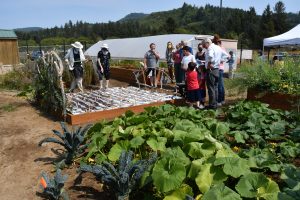 We are asking businesses and community organizations to show their support and advocacy for youth art and ecology education through financial sponsorship of the Your Art's Desire Virtual Fundraiser. Sponsorships begin at $200 level and provide donors with a variety of recognition for each level of giving including name and logo inclusion in digital and print media with verbal recognition during events as well as listings in our digital mailings reaching nearly 10,000 email addresses monthly.
As a Your Art's Desire event sponsor you will help Sitka bring free art and ecology education to a minimum of 500 additional youth in the 2022 school year. Sponsorship comes with a number of recognition opportunities for business and organizations; see Sponsorships & Benefits 2022. Please remit sponsorships by February 4th to maximize sponsorship recognition benefits available.
For more information about all of the programs Sitka Center for Art and Ecology offers the community including residencies, workshops, community outreach and events please check out our website www.sitkacenter.org.
More information about the "Living Quilt" project can be found online at: www.tillamookcountypioneer.net/sitkacenter-youth-arts-program-summer-workshops-what-we-do-matters-combine-science-art-outdoors-more.

About the Sitka Center for Art and Ecology
Through workshops, residencies and events the Sitka Center provides time and space for place-based reflection, inquiry and creation at the intersection of art and ecology. A 501(c)(3) nonprofit located on Cascade Head in the Salmon River estuary north of Lincoln City, Sitka offers a place where visual artists, writers, natural scientists, musicians and interdisciplinary creatives of all abilities and backgrounds come to nourish their curiosity and creativity. 2021 marks Sitka's 51st year of offering art-and nature-inspired workshops, residencies and public events on the Oregon Coast.   <strong>For more details</strong> visit www.sitkacenter.org. 541-994-5485 Sitka Center for Art and Ecology, 56605 Sitka Drive, Otis, OR 97368.