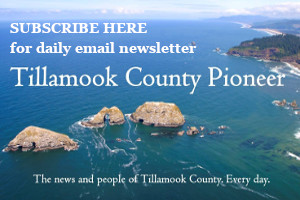 By Leeauna Perry, Youth Program Coordinator, Sitka Center for Art and Ecology
OTIS, OR – August 13, 2021 – Beginning in early July nearly 110 Pre-K through 8th grade students engaged in a STEAM style summer school program run in partnership between Nestucca Valley School District, Sitka Center for Art & Ecology, Food Roots, and the Nestucca Valley Disaster and Emergency Preparedness Response units. Over its 6-week duration, diverse programming was united by the theme "What We Do Matters!"
The six weeks were divided into three modular units titled Quality, Quantity and Everlasting Change. Monday through Thursday, students conducted science experiments in the morning and took art workshops in the afternoon. Topics such as endangered and protected species awareness, air and water quality, conservation, community engagement, and responsible stewardship were explored through a variety of projects such as drawing, painting, clay and wire sculpting, paper making and mosaics. Students were provided comprehensive hands-on, play-based education which included well rounded meals, weekly field trips and community service opportunities led by supportive adult role models working to provide a fun and memorable experience to area youth.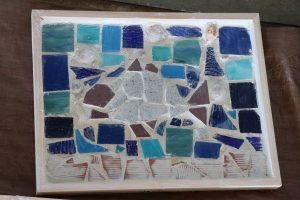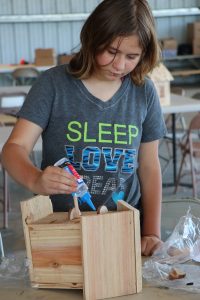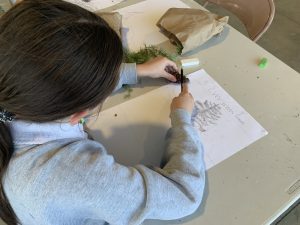 The art component of the program was led by the Sitka Center for Art & Ecology. Students received art education from visiting professional artists, architects, writers, scientists, and naturalists. Inspired by visiting author Peg Herring, students illustrated native plants and pollinators which were printed and published into a book. In another workshop they learned about the chemistry of creating natural plant dye extracts from native and non-native plants and created paste-paper bound sketch books with artist Iris Sullivan Daire. Heidi Beebe from Beebe-Skidmore Architecture shared the firm's work, enriching a workshop about designing imaginative and practical home re-model architectural drawings. Under the artistic direction of Jane Ingram Allen, students participated in a "Living Quilt" project, creating natural plant-based pulp paper with embedded wildflower seeds. The paper sheets were designed as a tricolor "quilt" representing local natural resources of water, trees, and salmon. White blooming seeds were placed in the white pulp areas, blue blossoming in the blue areas and orange flowering in the salmon areas, which will lead to a secondary art installation once the seeds blossom in the Spring.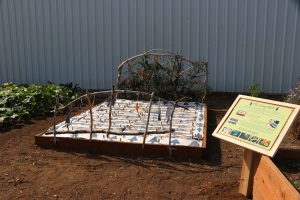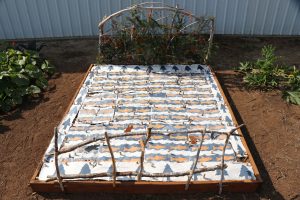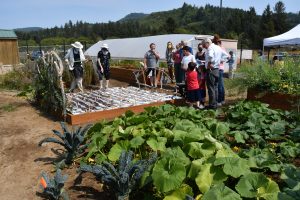 On Thursday, August 12th, the paper-seed creations were installed into an 8ft x 10ft shape to represent a traditional hand-made quilt. The participating students of the Nestucca Valley School District summer school program held an unveiling ceremony for family, friends, administrators, and community supporters. All gathered in the school's brand-new garden featuring the seed quilt "garden bed" installation. As their supporters looked on, students working in teams carried their quilt blocks into the garden and staked them down until the whole quilt was assembled, ready to be cared for over the coming months as a beautiful reminder of the way in which students were nurtured over the past weeks. The growth that each participant displayed over the duration of the program was evident in their actions, emotions and overall character. Students became more concerned about natural resource preservation, verbally stated greater compassion for fellow students during interactions and bonded over their successes as teams.
Thanks to the program's incredible educators, some of whom insisted on volunteering their services. Thanks also to the generous funding from the Oregon Department of Education, and to the K-12 Summer Learning Fund of the Oregon Community Foundation which aimed at creating meaningful summer experiences for kids, especially those in communities most impacted by the socio-economic challenges of online learning during the pandemic. A core intention of the program was to educate using mediums and techniques that in some cases would require time outside of traditional school hours. Keeping in mind the issue of financial accessibility, strategic planning with program supporters enabled the distribution of high-quality art and ecology supplies into the homes of participants so they could continue to explore their lessons independently. Functional works created by students such as blankets and dog tug toys were donated to local homeless and animal shelters, and just about every activity had something for the kids to take home and share with their families. Though the summer program has concluded, the "What We Do Matters!" principle will continue to have rippling effects within the community.
About the Sitka Center for Art and Ecology

Through workshops, residencies and events the Sitka Center provides time and space for place-based reflection, inquiry and creation at the intersection of art and ecology. A 501(c)(3) nonprofit located on Cascade Head in the Salmon River estuary north of Lincoln City, Sitka offers a place where visual artists, writers, natural scientists, musicians and interdisciplinary creatives of all abilities and backgrounds come to nourish their curiosity and creativity. 2021 marks Sitka's 51st year of offering art-and nature-inspired workshops, residencies and public events on the Oregon Coast.   For more details visit www.sitkacenter.org. 541-994-5485 Sitka Center for Art and Ecology, 56605 Sitka Drive, Otis, OR 97368.