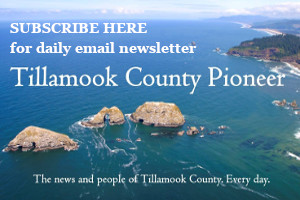 By Robin Swain  
    Woot! Woot! You know summer is just around the corner when Rockaway Beach announces their theme for 4th of July! Small Town America had the most votes.  
 When you watch a parade you think, oh this would be easy to direct. No, no it's not. I asked Parade Manager Laura for a brief behind the scenes run down…"Well, you start with the permit from ODOT. Fill out the form and map of route  It has to also get approved by County Sheriff and City. Contract with flagging company, security … you know, there really isn't a short answer. It takes a minimum of 40 (60 or more is preferred), volunteers along the parade route. Another 20 for registration  and to direct everyone to their spot in the line up and then coordinate them  leaving in numeric order. That's  a lot of people, coordination and timing that has to happen."
Community members are asked to nominate who they think should be voted as the Grand Marshal and Volunteer of the Year – you can do it online here:  https://form.jotform.com/230757014915152  or at the communit information session at City Hall on April 27th. The deadline for nominations is May 1st.  The city council will vote on the nominees at the May council meeting. 
Parade manager Laura Schmidt, of Oregon Coast Events, has been contacted by the City of Rockaway Beach to manage the Parade, and she is hosting an informal community information session at City Hall next Thursday, April 27th from 4PM-5PM where I'll be available for questions, suggestions, and give updates on the planning efforts, etc.   
Community members will also be able to sign-up for volunteer shifts needed for the 4th of July festivities, as there are many roles and spots available! 
We look forward to hearing from the community!  
The City of Rockaway has up to date information and links on their website as well: https://corb.us/ 
Parade applications for 2023 4th of July click here  https://tinyUrl.com/2023RBParadeapp