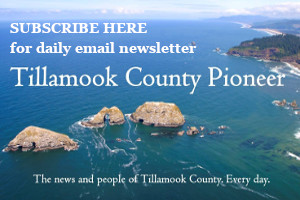 Jones Creek Rd / HWY 6, OR – On March 24, 2020 at approximately 5:25 PM, Tillamook County Communications District 911 received a call transfer from WCCCA from lost subjects in the forest. Two vehicles had parked at a locked access gate and the occupants hiked into the forest. They had reported they would be hiking the Tillamook Burn. They reported they were "frozen and unable to move".
Search and Rescue was activated. Their vehicles were located, and a the search began at that point. At approximately 11:52 PM, their footprints were located and teams began trailing them. At
approximately 3:30 AM on March 25th, the 3 subjects, Alexander Meyers, Natalie Ladu, and Steven Harrigan were located. No medical attention was required.
Steven Harrigan, 45, was arrested for a felon in possession of a firearm
Ladu, Natalie, 37, was arrested for a Washington County Warrant for Parole Violation and Possession of Methamphetamine.
Alex Meyers, 31 – no charges.
Tillamook County Sheriff's Office was assisted by Tillamook 911, Washington County Consolidated Communications Agency (WCCCA) who all received information.
Please remember that even if recreating at specified COVID-19 social distancing, that in the event you need rescue or medical assistance, you no longer are social distancing, and you place rescuers at risk
and burden an emergency/medical system which is already being taxed.
#STAY HOME, STAY HEALTHY – and keep our first responders safe.