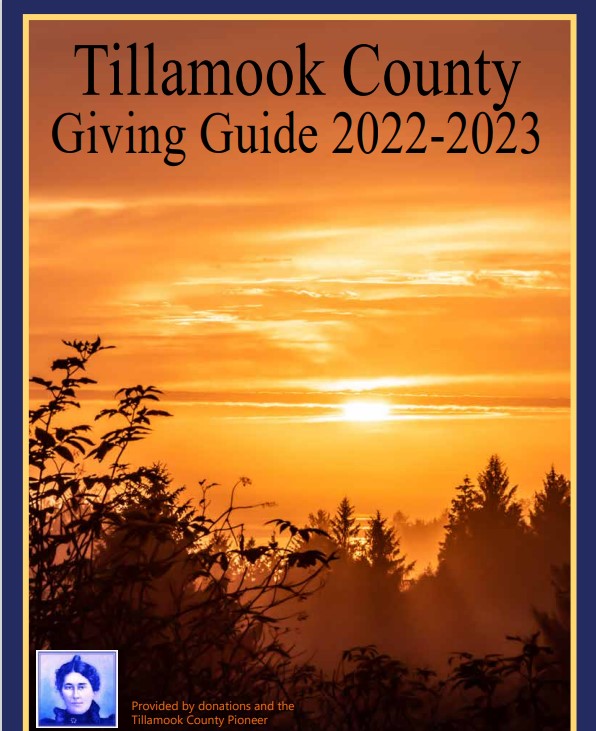 Introducing a new way to celebrate Earth Day – with SOLVE and local volunteer partners to take care of our special places in Tillamook County and throughout Oregon.
Join SOLVE and North County Racial and Social Justice at Laneda & Ocean Avenue in Manzanita from 10 AM – 1 PM! Located just north of the check-in site, the Cape Falcon Marine Reserve is home to over 20 seabird colonies and underwater rocky reef habitats. By volunteering, you are helping to protect the wildlife in this beautiful section of coast! This event is part of the Oregon Spring Cleanup, presented by PGE.
We have nearly 75 people signed up, and SOLVE re-opened registration for the event to allow for more volunteers, but spots are filling quickly, so sign up now! We need 6 Volunteers to support our beach clean-up lead, Lissette, for this #EarthDay event. We need 3 Captains & 3 Care Coordinators.
✊ Care Coordinators help with checking in folks who have signed up for the event, answer questions and support Lissette.
Captains help with set up, tear down and support the clean-up volunteers on the beach throughout the event as well as the event leader.
📲 To sign up as a Captain or Care Coordinator, text Cynthia at 917-544-0087 OR email northcountyrsj@gmail.com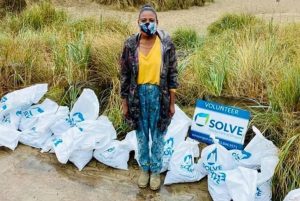 North County Racial and Social Justice – Event Leader: Lissette
Be prepared by dressing for any weather and wearing sturdy shoes. You are encouraged to bring your own reusable bucket/bag, gloves, and water bottle to help reduce plastic waste. If you happen to forget, SOLVE will provide bags and gloves. Don't forget about the small stuff! The most commonly found items of trash found on Oregon beaches are tiny bits of plastic and cigarette butts, which can be harmful to shore birds and marine life. Bring an old colander to sift the sand for these items. This beach cleanup is family-friendly, and volunteers of all ages will find the event fun and rewarding.
Remember our ocean shores can be dangerous. Avoid logs in the water. Keep your distance from marine mammals, and never turn your back on the ocean! Please keep dogs on a leash and steer clear of roped off Snowy Plover nesting areas. If you find any hazardous material, please alert your Beach Captain. And remember, it's more fun to work as part of a team. Bring a buddy, stay safe and have fun!
Hauling and disposal services donated by Tillamook County.
Beach Wheelchairs – The City of Manzanita now offers beach wheelchairs for both adults and children! If you would like to reserve one during this event, please call 503-812-5510, or stop by the Manzanita Visitor Center.
Meet at the corner of Laneda & Ocean Ave in Manzanita – From Hwy 101 take Ocean Ave in Manzanita, Meet at the beach at the intersection of Laneda & Ocean Ave. Take Laneda Ave. Off Hwy 101 in Manzanita to where it ends.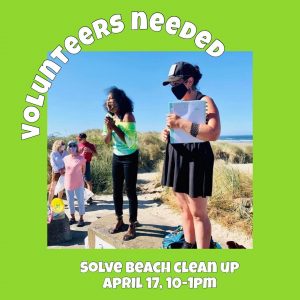 There are SOLVE beach cleanups happening throughout Tillamook and Clatsop counties (and around the state) on Saturday April 17th – here are links to Manzanita, Rockaway Beach and Garibaldi – events also being held at Oswald West/Short Sands, Barview, Neskowin, Happy Camp, :
MANZANITA BEACH CLEANUP – North County Racial and Social Justice host
https://www.solveoregon.org/opportunity/a0C1I00000QFIiCUAX
GARIBALDI SOLVE CLEANUP
https://www.solveoregon.org/opportunity/a0C1I00000QFLADUA5
ROCKAWAY BEACH LIONS CLUB
https://www.solveoregon.org/opportunity/a0C1I00000QFFOTUA5
SAND LAKE RECREATION AREA
https://www.solveoregon.org/opportunity/a0C1I00000QFKKLUA5
PACIFIC CITY BEACH/Cape Kiwanda
https://www.solveoregon.org/opportunity/a0C1I00000QFIibUAH
Sign-up to be a volunteer and then check out the many opportunities throughout the state to take care of our outdoor environment!
SOLVE is excited to launch a brand-new statewide event this April called the Oregon Spring Cleanup, presented by Portland General Electric. As we have for over fifty years, we will be supporting the efforts of awesome partners and amazing volunteers from around the state who are motivated to take care of their special place in Oregon.
This new event has its roots in the Spring Oregon Beach Cleanup (created in 1986) and SOLVE IT for Earth Day (started in 1990). We hope the Oregon Spring Cleanup will become a new family tradition for your loved ones to join with other Oregonians in making the state a better place for both humans and wildlife, from Astoria to Brookings, Bandon to Burns, and all points in between.



There are dozens of great opportunities for celebrating Earth Day with SOVLE this year! Projects occur on various dates between April 10 and April 25. You can check out the list of projects and search by date and location, or you can check out the project map to find an event of interest to you.