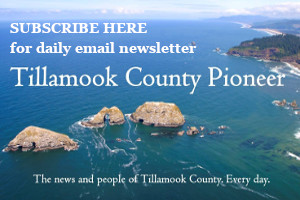 By Amy Schmid, Administrative Program Specialist, & Jessica D. Linnell, PhD, Assistant Professor of Practice, Family & Community Health, OSU Extension Service, Tillamook County
We have all had that argument with a family member or friend where we were left wondering if we could really believe what they said.  When someone says something like, "GMO corn causes cancer because it contains frog DNA," or "You should never use Roundup because it takes 200 years for it to lose half its potency," or "Eating beef and dairy is bad for the planet because cow farts are a major contributor to air pollution," and you say to yourself, "Is that really true?"
When you want to figure out the truth, where do you go?  Google?  When you get the google search results how do you know that information is trustworthy?  With so much information available to us it can be hard to discern the good from the not so good.  That's where Oregon State University Extension Service can help. We are here to provide the people of Tillamook County with objective, research-based information you can depend on.  We can help you settle family arguments and answer your most burning questions.
OSU Extension Service in Tillamook County focuses on information that can be used by individuals, families, and community leaders to strengthen communities and economies, sustain natural resources, and support healthy families.
Oregon State University is the state's land grant university, and it has a mission to work with communities to solve local issues, promote health and well-being, protect the environment and spur economic development. The OSU Extension Service offers a combination of services tailored to the unique industries and natural resources, demographics, and urban, and rural environments of Tillamook County.
When you need information to help make decisions that affect your family, farm, business, or community, start with the OSU Extension Service. You will find reliable, research-based information and advice that is available through one-on-one conversations with experts, workshops, forestry and farm tours, publications, hotlines, websites, online classes and youth development clubs and activities.
Now you can also get information from OSU Extension Service through the Tillamook County Pioneer. We're excited to be launching a new column, "By Extension — Your Connection to the Programs, People, and Publications at OSU Extension Service Tillamook County". The goal is to bring you the answers to questions about topics that matter to you.  We will also be writing a series of articles to introduce you to the staff and programs of Extension and Open Campus that are available.
What we want to know is, what do you want to read about? What burning questions do you have? What topics do you want to find out more information about? What family argument can we help resolve?  Tell us by going to this link.
Find us on the web at extension.oregonstate.edu/tillamook or on Facebook or Twitter
By Extension, Your Connection to the Programs, People, and Publications from OSU Extension Tillamook County
Seeking Answers?
Submit your questions to so we can write about what about what matters to you.
Join the conversation on Facebook or Twitter
Find us on the web at extension.oregonstate.edu/tillamook