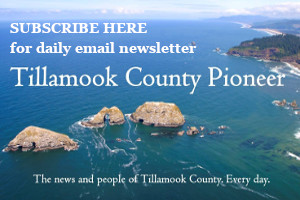 EDITOR'S NOTE: She's back!! Yeah! When I saw this in my email box – what perfect timing. Judi shares how she has "walked her way" through the pandemic weight gain, and has now gained a new appreciation for so many things. And she shares some "lightened up" cookies that you'll surely want to bake and share. Welcome back, Judi and thanks for sharing your journey and your recipes.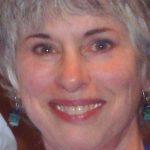 By Judith Yamada, Kitchen Maven
For me, the spring began with nearly three months of isolation in our tiny Portland area condo. It was bearable because we like the place, beautifully surrounded with trees, steep trails and pathways. However, the HOA community center, where we swim for a bit of exercise, while there, was suddenly a potential threat and closing, and the restaurants (which I normally love) seemed way too touchy feely and constricted. Plus, most were closing in preparation for the Oregon shutdown that was to come, although no one anywhere seemed to know how to be safe. So hubby and I donned paper dust masks, shopped wherever we could find supplies and walked the hilly trails keeping our distance from everyone. With nothing much to do, I cooked like crazy and we ate like bears heading into hibernation.
Like many of you, I hunted desperately for flour and yeast (among other seemingly necessary items) and got to work baking bread and spraying every surface, in my proximity, with my homemade bleach solution. Grocery shopping (our primary outing) was questionable and we disinfected everything from boxed soup to wine bottles. Frankly, I was terrified and took to rotational use of zinc throat spray, D3, vitamins B complex and C, Detox tea and washing my hands every five minutes. It became thoroughly compulsive, but we were intent that if we must be in it – we were in it to win it.
Being away from our quaint "Blue Heaven" cottage in Rockaway Beach wasn't too much of an imposition in the early spring – at first. And, after all, the city condo was for convenience. It allowed us easy access to quality medical care, entertainment, dining out and visiting with Portland area family and friends. I could handle that, I thought. And then reality set in. My March birthday passed with a take out pizza and a bottle of wine in the TV room with hubby and kitties. There was no visit to Powell's Book Store, no show at the Portland Center for the Arts, no Living Room Theater movies, no Farmers' Market at PSU, and no birthday dinner at a fine Portland restaurant. Most sadly, there were no visits with our adult children, grand children or my only sister.
Although fully aware that we are two of the really lucky people muddling through this disaster, and increasingly thankful for having each other, we were bored, confused and fearful of contact with anyone, especially people we didn't know. Every month got more difficult. Following a period of gloominess, several little tiffs with my other half, and a loss of interest in everything but eating, sleeping, reading and watching TV, I decided to improve my situation by improving my attitude and improve my environment through a change in my behavior.
Once we were back at the coast with nothing to do but gardening, cooking and cleaning, on a whim, I joined Weight Watchers. In the process, my cooking changed, as did what we both ate. Having practiced yoga for years (and stopped) I bought a yoga book for seniors, started practicing, played dance CDs and danced off the stress, then purchased a step tracker and began walking, and walking some more. Each positive move led me to another. Eventually, I lost over twenty-five pounds and stopped continually aching. My willingness to simply "try" brought me through several months of turmoil, with an improved outlook and better health.
However, the impending holidays brought more angst. As with most of you, I miss socializing, especially during the holidays. Intent on squeezing a little joy out of our beautifully balmy Thanksgiving Day, we asked a single neighbor to join us, for some wine, on our 25-foot front porch, and insisted she leave with a "to-go" steelhead holiday dinner. Yes, it was different than other Thanksgivings, but it was uplifting and a fun change for all three of us.
As with many of you, I love and miss baking and sharing homemade breads and boxes of cookies with friends and family. So, weight loss program or not, I conducted some carefully designed baking this holiday season. With no plans to work myself to exhaustion baking seven types of cookies or three types of pie, I researched simple recipes, of small quantities, with redeeming qualities. The idea was to share boxes of cookies with a few coastal neighbors and have very few left to consume. I delivered those cookies today, wearing my prettiest mask, door to door with neatly wrapped gifts of homemade treats. The cookie recipients were appreciative and surprised, and my spirits were lifted.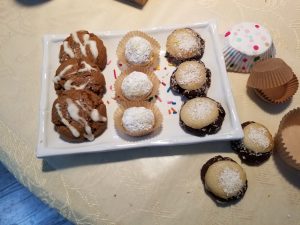 These nine months of pandemic living have taught me a lot about compassion and gratitude and making the best of our circumstances. Rod and I hope this finds you all well and hopeful for a kinder and gentler 2021. And if you still want to bake – just a little – for the holidays, these three quick, easy and delicious cookie recipes are all winners, and make just enough to share a little and eat a little without too much over indulgent guilt in the new year. Happy Holidays!
ALMOND FLOUR CHOCOLATE COOKIES ~ Chef Molly
https://www.vanillabeancuisine.com/almond-flour-chocolate-cookies/
These are wonderful, gluten free, not too sweet, anti-oxidant filled treats. I follow her directions, exactly, for the chocolate dough, but don't include the chocolate chips and sparkling sugar. Then I fancy them up a bit, with marzipan and coconut, for the holidays. Directions for my changes are at bottom of the recipe.
Ingredients
• 7 oz semi-sweet or bittersweet chocolate (200g)
• 3 T. unsalted butter (45g)
• ¼ c. sugar (55g)
• 1 egg
• 1 t. vanilla extract
• 1 c. almond flour (100g)
• ½ t. baking powder
• ¼ t. kosher salt
• ½ c. mini chocolate chips (85g)
• ¼ c. sparkling sugar (or turbinado sugar)
Melt dark chocolate and butter together in saucepan over medium-low heat, about 3-5 minutes. Stir frequently with a rubber spatula to make sure chocolate doesn't burn. When fully melted, scrape into a large bowl with the spatula.
Whisk in sugar. Be careful that your melted chocolate/butter mixture is not too hot before the next step. If you have melted over medium-low heat and transferred to a new bowl, the temperature should be fine, but if the mixture is very hot to the touch, let it sit for a minute after you add the sugar. This will prevent the egg you add in the next step from cooking before it is incorporated into the batter.
Whisk in egg and continue whisking for about a minute, until fully incorporated and glossy. Whisk in vanilla extract. Then, with a wooden spoon, stir in almond flour, baking powder, salt, and mini chocolate chips.
Refrigerate for 45 minutes, or until dough firms up enough to roll into balls. Meanwhile, preheat oven to 350 degrees. When you are ready to bake, scoop out one generous tablespoon of filling at a time, and roll with your hands to make a ball. Fill a small bowl with sparkling sugar, and press the top of each cookie ball into the sugar, then place onto a parchment-lined cookie sheet.
Bake for 10-12 min at 350 degrees. You will begin to smell chocolate, and the cookie tops will crack. They will still look very soft when you take them out, but they will firm up as they sit. Place the cookie sheet on a cooling rack and let sit for 3 minutes, and then remove cookies and place directly on cooling rack.
To freeze cookies before baking, make them into balls and press them in the sparkling sugar. Then freeze in a zip lock freezer bag. Bake frozen cookie balls at 325 instead of 350, because they can burn before fully cooking. You'll also need to add 3-5 minutes to your baking time. You can also freeze baked cookies. Both cookie balls and baked cookies will last up to 3 months in the freezer.
Judi's holiday version:
Skip the mini chocolate chips. Divide a tube of prepared marzipan (baking aisle of the grocery) into 20 (or so) small balls, forego the sparkling sugar, roll the chocolate dough balls into unsweetened finely shredded coconut, then press and flatten a ball of marzipan into the top of each cookie and bake around 9 minutes. Press a bit more coconut into the marzipan while the cookies are hot and allow them to cool completely before packing in layers in a closed container.
PISTACHIO SNOWBALLS WITH ROSE & CARDAMOM ~ Beth Lee
https://omgyummy.com/rose-cardamom-and-pistachio-snowballs/
These are pretty traditional cookies except for the flavors. They are admittedly a knock off on a much less flavorful Betty Crocker cookie. But, Pistachio Snowballs are exotic and delightful, melt in the mouth and are so simple to make. You could substitute with other nuts and flavorings, but they just wouldn't be as scrumptious. As Beth Lee suggested in her original recipe, increase the rose water and cardamom to ½ teaspoon each. It won't be too strong. I used roasted/salted pistachios and didn't need to toast the nuts.
Ingredients
• 1 stick soft butter
• 1/4 cup sifted confectioners' sugar
• ½ teaspoon rose water (available at liquor stores and specialty stores – it's not alcoholic)
• ¼ teaspoon ground cardamom (I think you can go heavier on the rose water and cardamom).
• 1 1/8 cups sifted flour
• 1/8 teaspoon salt
• 1/2 cup finely chopped toasted pistachio nuts
Instructions
1. In a stand mixer, mix together thoroughly the softened butter, sifted confectioners' sugar, rose water, and cardamom
2. Mix in the flour and salt. Then add in the pistachios. At this point, you can mix by hand if you like.
3. Once the nuts are thoroughly incorporated, wrap the dough in plastic wrap and chill. The dough can remain in the fridge for just a 1/2-hour or even overnight.
4. Preheat oven to 400 F degrees or 375 F convection oven while the dough chills.
5. To bake them, roll into 1″ balls. Place about 2 inches apart on an ungreased baking sheet (I used parchment). Bake until set but not brown – about 8 – 10 minutes. While still warm, roll in confectioners' sugar. Cool. Roll in sugar again. (I used a small tea strainer as a sifter to put the second coat of sugar on.)
1. Prep pistachios – toast and finely chop. I use a mini food processor.
2. Sift confectioners' sugar and flour (separately).
3. In a stand mixer, combine the butter, sugar, rose and cardamom.
4. Then add the flour and salt, then the pistachios – mix by hand if necessary.
5. Chill the dough – from 1/2 hour to overnight or longer.
6. Roll into balls, bake, and douse in confectioners' sugar to finish.
7. Try not to eat them all before you pack them up.
8. You can store uncooked dough in the refrigerator or freezer. Just have to wait until it is soft enough to roll (you want it a bit chilled when rolling but obviously not hard as a rock). Once the cookies are baked, you can store them in a cool dry place for several days. When serving, dust a bit of fresh powdered sugar on if you like for a fresh, festive display.
OLD FASHIONED GINGER COOKIES (WITH LEMON GLAZE)
https://cmx.weightwatchers.com/details/WWRECIPE:5626a628a6d5b39610700f71
This is a 3 point Weight Watchers' recipe. The grated fresh ginger sends this one over the top in gingery deliciousness. The lemon glaze is optional and not part of the original recipe, but it adds another flavor dimension to the cookie and looks pretty for holiday cookie plates. These are also quick and simple to make, and they contain fiber from the whole wheat pastry flour.
Ingredients
2 cups Whole-wheat pastry flour
1 tsp. Baking soda
1 tsp Ground cinnamon
1 tsp. Ground ginger
1⁄4 cup Canola oil
1⁄4 cup, dark variety Molasses (not black strap)
1 large Egg
2 tsp, peeled and finely grated Ginger root
1 cup Sugar
3 Tbsp Sugar
Instructions
1. Place the oven racks in the upper and lower thirds of the oven and preheat the oven to 350°F. Line 2 large baking sheets with parchment paper.
2. Whisk together the pastry flour, baking soda, cinnamon, and ground ginger in a medium bowl. Whisk together the oil, molasses, egg, and fresh ginger in a large bowl until smooth; whisk in 1 cup of the sugar. Add the flour mixture and stir until blended. Let the dough rest about 10 minutes.
3. Spread the remaining 3 tablespoons of sugar on a small plate. Roll scant tablespoonfuls of the dough into 1-inch balls, making a total of 36 balls. Dip the tops of the balls in the sugar and place, sugar side up, on the baking sheets about 2 inches apart. Bake until the cookies are cracked, soft in the center, and firm along the edges, 10 – 12 minutes. Let cool on the baking sheets on racks about 2 minutes. With a spatula, transfer the cookies to racks and let cool completely.
(Optional lemon glaze): In a microwave safe bowl, combine 1 ½ cups sifted confectioners' sugar, 2 – 3 tablespoons fresh lemon juice, 2 teaspoons finely grated lemon zest (yellow only), ¼ teaspoon EACH vanilla extract and lemon extract, pinch salt. Whisk well. Microwave 30 seconds on high. Whisk again; cool completely, Whisk again and lightly drizzle over tops of cookies. Allow glaze to dry before storing.