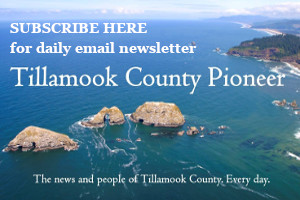 Governor Kate Brown held a press briefing Friday December 11th with Dr. Dean Sidelinger, state epidemiologist, and Darrah Isaacson, a special guest.   Dr. Sidelinger spoke about a worrisome trend in Oregon. The state continues to set records for new cases, hospitalizations and deaths. Pausing to reflect on what the losses mean, Dr. Sidelinger said:  
Each death marks the anguished end of a lost battle against the virus. 
Each death leaves a hole in someone's life. Each death cuts short love, laughter and memories for families and friends. 
Each death means a neighbor – a fellow Oregonian – who will not be here to ring in the new year.
And every single COVID-19 death is avoidable.
Dr. Sidelinger also pointed out some good news. Oregon saw a decrease in people's movement before Thanksgiving. A national survey showed that Oregon had a high percentage of people who reported they were going to spend the holiday with only members of their household.
These decisions likely slowed the increase in cases, he said. If everyone continues to reduce the risks of their actions, we may avoid the rapid rise in cases that we feared.
At the briefing, Governor Brown gave an update on the COVID-19 vaccine campaign to distribute adequate supplies of vaccine to Oregon communities as quickly as possible starting with those who have been hardest hit and are most at-risk. By the end of December, Oregon expects to receive 147,000 doses of the Pfizer and Moderna vaccines. Approximately 100,000 Oregonians are estimated to receive their first vaccine doses by the end of the year.
Darrah Isaacson's story: the long-term effects of COVID-19
Darrah Isaacson is what is known as a COVID-19 long-hauler. She has been ill with the disease since March 2, 2020. Isaacson took the time to tell her story at the news conference today. She talks of the long-term effects of COVID-19, of having to give up the things she loves to do like reading, hiking, biking, camping and of not being able to play with her 5-year-old daughter.
A lifelong Oregonian, Isaacson wrapped up her story by saying, "Oregonians look out for one another. It's one thing I love, of many, about this state. During the wildfires this summer, neighbors came together and bonded and helped people with the wildfire response. They stepped up. They didn't think twice.
"Now we need to step up again. To protect one another from this devastating virus. This is not the time for blame or arguments. This is the time to make some sacrifices so that we can come together and keep this virus from harming any more of our families, like mine."
Please take the time to watch Darrah Isaacson tell her important story about living with COVID-19.
Readers share: How you're celebrating safely this holiday season
We asked Coronavirus Update readers to share how they are celebrating the holidays safely this year. So many creative ideas were sent in. We appreciate the commitment readers bring to stopping the spread of COVID-19 in Oregon's communities and thank you for sharing with us. We'll be sharing your ideas today and in future issues.
Here are a few of the plans readers have for celebrating safely:
"We plan to do a drive-by, contactless delivery of traditional holiday cookies and gifts for those we are usually with during the holidays. We plan to send one another photos or livestream our respective holiday décor."
"We will not be getting together as normal this year. Instead, we are doing an outdoor, masked and socially distanced hike, rain or shine!"
"We will remain home and will not have family come from other parts of the state as we usually do. It will be a quiet, mellow, cozy holiday time for our small family. We will cook together, play games, make puzzles, watch 

Christmas

 favorites on TV, enjoy neighborhood walks and decorate the house like crazy!"