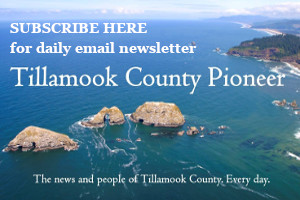 By DeAnna Pearl, M.A.T, B.S., Certified Prevention Specialist, SOS Tillamook Prevention Program, Tillamook Family Counseling Center
This is National Prevention Week, May 13-19th, and the focus is on "Action Today. Healthier Tomorrow." This theme reminds us that simple, daily acts of prevention, like helping a friend make positive choices or supporting a family member in need, can lead to healthier lives for each of us today, and stronger, happier communities tomorrow. Still the #1 effort parents can make every day is to talk to your kids about your beliefs around using alcohol, tobacco, marijuana, and abuse of prescription drugs.
In the last 25 years, a generation of Oregonians have been protected by preventative state laws: no public indoor smoking and 10' rule, seat belts, bike helmets, no cellphones while driving, not smoking in cars with 0-18yr, age limits on purchasing alcohol, tobacco and marijuana. At one time, all of these laws were controversial, publically debated and ridiculed.
Of specific concern are how to create communities where the healthy choices are the easy choices. This includes information/programs on how to prevent addictions, meeting the challenges to solve them, and highlighting parenting skills, addressing mental health challenges, and creating healthy spaces, and many more.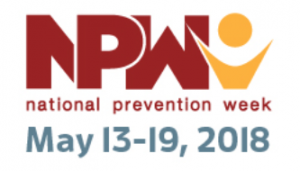 Starting Monday of the NPW, watch for information and activities:
Monday – Promotion of Mental Health & Wellness
Tuesday – Prevention of Underage Drinking & Alcohol Misuse
Wednesday – Prevention of Prescription & Opioid Drug Misuse
Thursday – Prevention of Illicit Drug Use & Youth Marijuana Use
Friday – Prevention of Suicide
Saturday – Prevention of Youth Tobacco Use
National Prevention Week in Tillamook County fits into the long-term strategic planning of Tillamook County Wellness to support, overcome and strengthen this coastal county of about 25,000 people. This county has people coming here from all over the country — and yes, world — for the quality of life, the beauty of the place and culture. While this is one week of the year, it is a pivot point for thousands of Tillamook County residents to consider their health right now and plan for their own future.

On Thursday May 17, SOS Tillamook will be hosting their monthly Community Conversations, "Circles of Resiliency: Bounce or Splat Part II" at the Tillamook Main Library, from 5:30 to 8 pm. A panel of speakers will focus on the topics surrounding National Prevention Day. However, the audience is invited to contribute to the conversations surrounding barriers, successes and future needs to continue to build a resilient community. RSVP @ https://circlesofresiliency.eventbrite.com
SOS Tillamook is the Prevention Program of Tillamook Family Counseling Center. This Tillamook County program focuses on Supporting ways to engage the community; work with partners to Overcome barriers; Strengthen its resiliency. For more information of events, find us on Facebook or contact DeAnnaP@tfcc.org.