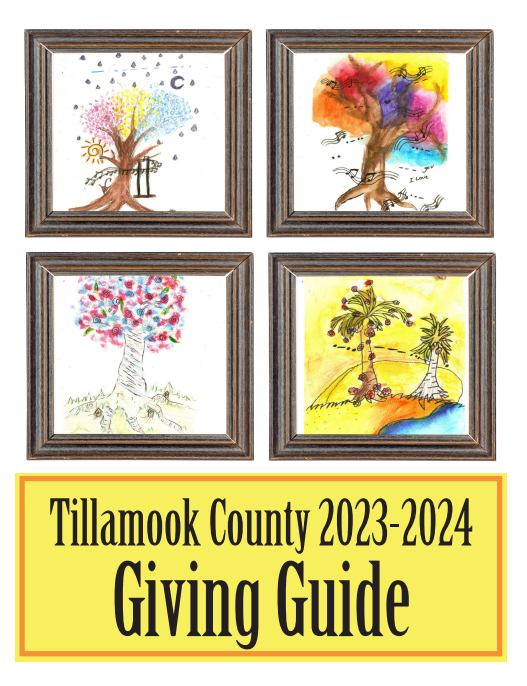 By Meteorologist Gordon McCraw for the Tillamook County Pioneer
(Facebook – Gordon's Weather Center)
 Septenber 30, 2023 – Can you believe it is time once again for me to pull out my magic cyrstal ball to see what this year's winter season has in store? As I say every year, one of the strongest influences on the U.S. seasonal climate, especially in the winter, is El Nino or La Nina conditions.  As a review, El Nino is the warm phase of the El Nino-Southern Oscillation (ENSO) climate pattern.  This means the water in the central and eastern equatorial Pacific is running warmer than average.  With these conditions, we generally see the Pacific Jet Stream move southward and spreads further east over the winter, leading to warmer and drier conditions for us in the Pacific Northwest.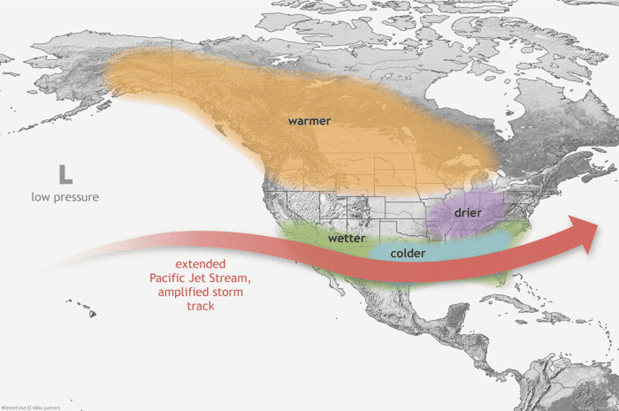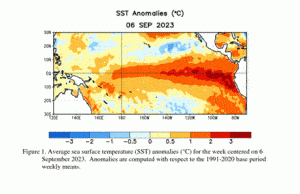 I guess I can stop there because we are already seeing the indicators that those waters have become warmer  in that region: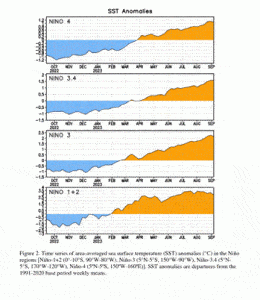 The Center says that during the last 4 weeks, the equatorial tempertures were above average across most of the Pacific.
…and the Climate Prediction Center says, at present, there is a 95% chance of this persisting through the January-March 2024 time frame and a 71% chance that it peaks as a Strong El Nino this winter. The models below back this up, showing the Sea Surface Temperatures are forecasted to remain above the ENSO neutral line.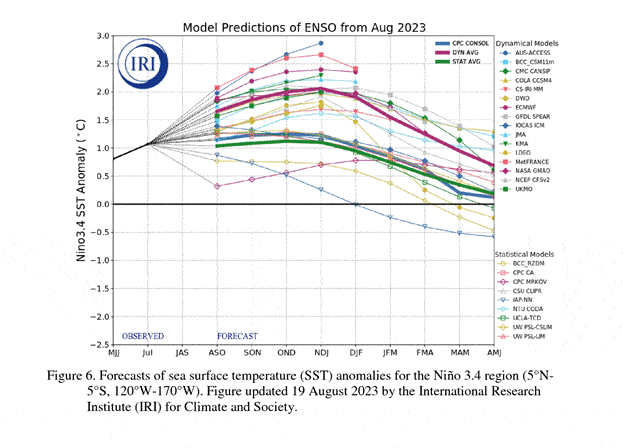 So, what does all this mean for us? Well, first, remember that seeing a strong El Nino DOES NOT necessarily mean strong El Nino conditions locally, it just means a stronger chance that El Nino impacts will occur…somewhere! The data is just an indicator of history.  The ENSO Blog offered a few reminders they have learned over the years:
You CANNOT blame EVERYTHING on El Nino.
No two El Ninos are alike, and the same can go for their impacts.
And, just because a strong event is forecasted doen not necessarily means strong impacts. It instead means El Nino can increase the chances for certain types of extremes; we could see all the extremes, or none of the extremes, put them together and we have an average!
And here is the Climate Centers Outlooks.
October-November-December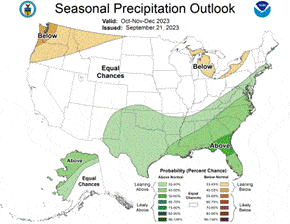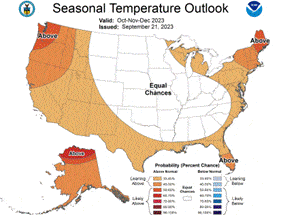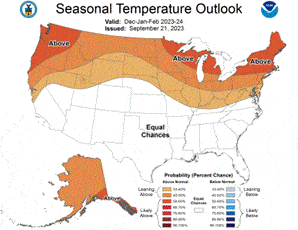 December-January-February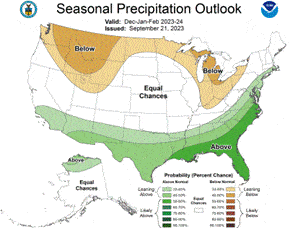 As you can see on the above Outlooks, and as suggested by the increasing El Nino, the Pacific Northwest has a 40-50% chance of seeing Below Normal Precipitation through December, then a 30-40% chance through March.  It also has a 50-60% chance of seeing above normal Temperatures for that entire period. Again, just like other forecasts, these are subject to chance in their next report, but you can see the trend.
And one more reminder, the Winter of 2007 was an El Nino period and was considered a light storm season, but there was that one storm in early December of 2007, remember the storm that was later named the "Great Coastal Gale of 2007?"  That was an El Nino year! I have said over and over, it can be a relatively inactive season, but if the one severe storm that year goes over your house, did you have an active or inactive year?