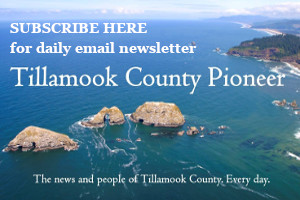 Oregon's mid-coast has long been celebrated for its picturesque landscapes and abundant wildlife, captivating both locals and visitors alike. However, photographer Jaklyn Larsen recently found herself at the center of an extraordinary natural event that surpassed all expectations. Larsen, an avid outdoors enthusiast and resident of the coastal region, unintentionally captured breathtaking drone footage of a group of Orca whales hunting a gray whale calf north of Newport at Cape Perpetua, Oregon.
Larsen, whose passion for photography is evident on her website JaklynLarsen.com, has always been drawn to the beauty of the area. Engaging in activities like whale watching and exploring the forests of Oregon, she often found herself amidst remarkable scenes of nature. I was fortunate to get a chance to speak with Larsen shortly after she shared the video footage to her social media account.
"I'm an outdoors person, so I always keep an eye out for these majestic creatures whenever I'm out," Larsen remarked.
It was during one such outing that Larsen stumbled upon an awe-inspiring sight. Following reports of whale sightings in the area, she made her way to Yaquina Bay and was rewarded with an unforgettable experience.
"I could see everything in real time as it was happening," Larsen explained. "The Orcas had been in the vicinity for a while, and as I drove north to Devil's Punchbowl, I noticed a gathering of people observing the spectacle. Through my lens, I witnessed the whales breaching in perfect unison. However, it soon became apparent that this was not just a display of acrobatics; a gray whale calf was being hunted."
Having lived on the coast for many years, Larsen was familiar with the presence of gray whales, but encountering Orcas in the area was a rarity. Reflecting on the incident, she expressed a mix of emotions.
"It's a hard video to watch, knowing the outcome," Larsen said somberly. "But it also serves as a reminder that despite the harsh realities of nature, the world we inhabit is still incredibly beautiful."
Larsen's footage offers a unique glimpse into the delicate balance of life and death in the animal kingdom. It showcases the raw power and hunting prowess of the Orcas, while also highlighting the vulnerability of the gray whale calf. The video has gained national attention, with its striking imagery reminiscent of scenes from National Geographic documentaries.
Through her work, Larsen hopes to inspire a deeper appreciation for the natural wonders that surround us. By sharing this captivating footage, she aims to remind people that despite the often tumultuous nature of the world, the beauty that resides within it is truly extraordinary.
Jaklyn Larsen's unexpected encounter serves as a poignant testament to the intricate tapestry of life unfolding right at our doorstep. As we bear witness to such extraordinary events, we are reminded of the delicate balance of nature and the remarkable world we are fortunate to inhabit.
For more of Jaklyn Larsen's breathtaking photography and her encounters with nature's marvels, visit JaklynLarsen.com.
Here's a short clip of drone footage from yesterday's orca predation event that I witnessed here on the Oregon coast. It was such a privilege to see them work together in coordinated attacks, but it was also quite brutal. I'll have more to share soon! pic.twitter.com/Owkdn4Msyh

— Jakz (@iamjakz) May 9, 2023
You can find a short clip of the whales here: