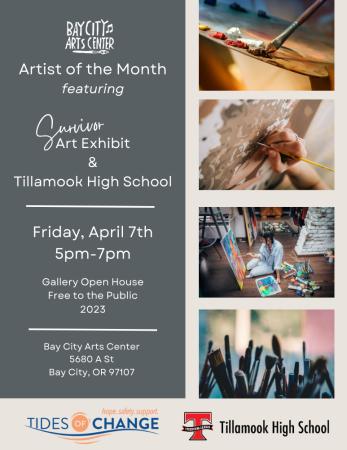 By Representative David Gomberg, House District 10
Hello Friends,
On Monday evening, wildfire survivors from Lincoln County will have an opportunity to tell their stories to the Legislative Committee on Wildfire Recovery. You can watch the hearings live or recorded here. Just click on the date at the right side of the screen.
Originally this hearing was scheduled for last Monday but widespread winter storms and power/internet outages caused a delay. Wednesday night the committee heard from Southern Oregon residents. Over 60 people signed up to testify and the hearings ran nearly five hours.
We have certainly learned that these remote public hearings are tedious and technical. The good news is that you don't have to drive to Salem which is normally required. The bad news is that the internet process has proven daunting and difficult for many people. For Monday night, I am committed to ensure that my constituents will be heard – even if I have to call them and hold the phone up to the computer.
For anyone interested in hearings, bills, budgets, or the present or past record of the legislature or individual legislators, the Oregon Legislative Information Service (OLIS) is a necessary and invaluable resource. You can look up bills I've sponsored, how I voted, or watch my testimony at hearings. You can see the entire list of bills introduced this year or search for keywords. For example, last week when the Coastal Caucus met with 25 Chamber of Commerce directors, I was asked about proposals affecting the wood product industry. With two clicks, I was able to report that 48 bills have been introduced dealing with "forestry".
My good friend, Senator Betsy Johnson and producer Michael Desmond have now created the best OLIS tutorial and overview I've seen. The 45-minute program is available here. For students or staff, local leaders or citizens interested in learning more about their government, listening is time well spent.
Housing availability and affordability has continued to be a pressing concern across our district. COVID, economic uncertainty, wildfires, and now weather have made the problem worse. Too many tenants are having problems paying their rent, and too many small landlords are facing ongoing costs but a loss of income needed to pay expenses.
There are tools and financial assistance to help both.
The Landlord Compensation Fund is now accepting applications. Established during the last special session of 2020, the program provides relief to residential landlords who have been unable to collect tenant rent. Landlords whose applications are approved for funding will receive 80% of unpaid rent they are owed since April 2020. The program requires the remaining 20% of unpaid rent be forgiven.
Current applications are open until March 2nd and cover rent debt accrued from April 2020 – February 2021. This round of application includes $50 M of the total $150 M available for this program.
Tenants in need of assistance can call or text 2-1-1 or reach out to their local community action agency.
Homeowners in need of support can access assistance through the Oregon Homeownership Stabilization Initiative.
Finally, for landlords who have lost income because of rent forgiveness or non-payment, I plan to support SB 330 which provides tax credits to offset those losses. A first hearing on the bill is scheduled for March 2nd in the Senate Committee on Housing and Development.
We are entering into the tax season, and there is great news from the Oregon State University College of Business Center for Advancing Financial Education. They are offering free tax preparation services to low and middle-income individuals and families.
The Volunteer Income Tax Assistance (VITA) program is an IRS initiative to support free tax preparation services. To qualify, individuals or families must make less than $72,000 annually and meet other eligibility guidelines. Volunteers including IRS-certified accounting students, university staff and community members will prepare taxes for participants.
The service is available in February and March, and appointments are now being taken. Participants will have an initial interview by phone or Zoom to confirm qualifications, ensure they have their tax documents and go over intake forms. Appointments will be scheduled after that, with most tax preparation taking place virtually. A limited number of face-to-face tax preparation appointments are also available, following COVID-19 health and safety protocols.
To learn more about eligibility or to register for an appointment, click here or call 541-737-7962. Assistance is also available in Spanish.
I wanted to close this week with a positive note.
Earlier this month, I testified in support of two Resolutions honoring special Oregonians. HCR 6 celebrates the life and many contributions of Toledo artist Michael Gibbons. You can watch the hearing here at roughly the 12-minute mark.
My friends Michael and Judy Gibbons' endeavor to create and sustain a vibrant art scene in Toledo continues. Thanks to the Arts Revitalization of Toledo (ARTS) committee, work will begin soon to clean up aging buildings on Main Street and host temporary window art galleries in the vacant spaces. Applications for these free spaces are now available with a due date of March 8th. Artists will be selected and notified by March 15th.
Mayor Rod Cross said that with Gibbon's death last summer, "it brought home how much the arts can mean to people and to a community struggling during this time of isolation. I feel the arts can bring us back together in a way that was not done before." Toledo's three small museums – the Yaquina River Museum of Art, Toledo History Center and the Yaquina Pacific Railroad Historical Society –  are involved in the planning as well. The Oregon Coastal Visitors Association has awarded the group a $10,000 grant.
Long-time Toledo artist Michael Gibbons passed away on 

July 2

, 2020 at his home. He was 76.
Oregon continues to struggle – with COVID, an uncertain economy, historic divisions, wildfires, and now severe winter weather. My commitment remains to be your voice in Salem, to advocate not just for Oregon but for our special part of Oregon, and to work each day to address our challenges and bridge those divides. It is an honor to serve you, and I thank you for that opportunity and for your support.
email: Rep.DavidGomberg@oregonlegislature.gov
phone: 503-986-1410
address: 900 Court St NE, H-480, Salem, OR, 97301
website: http://www.oregonlegislature.gov/gomberg