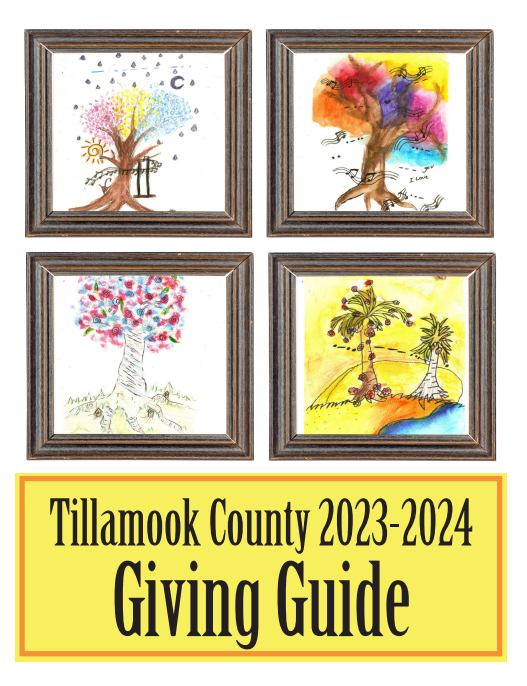 Warren, OR – The Independent Party of Oregon nominated Melissa Busch as the party's sole candidate to represent Senate District 16, which includes the communities of Tillamook, Seaside, Warrenton, Astoria, Scappoose, St. Helens and Warren, in the Oregon Senate. North Coast voters have long supported leaders that put the needs of the community over partisan politics and aren't afraid to buck the party line.
"I am so honored by the Independent Party's nomination," Busch said. "In my work as a nurse, I fight for all of my patients regardless of their background, political, or religious beliefs. As State Senator, I'll lead with those same values."
The nomination is especially noteworthy because the party previously backed Busch's opponent, Rep. Suzanne Weber (R, Tillamook), in Weber's run for State House in 2020.
"I think voters are tired of the same career politicians in Salem who are out of touch with the daily struggles that working families are facing," Busch said. "If we want to find solutions to the problems facing our communities, we need new perspectives. The partisan gridlock that we have seen for the past few years in Salem has to stop."
In a statement, the Independent Party of Oregon wrote, "As a home healthcare nurse, Melissa Busch works everyday with people in crisis. Melissa is the person we trust to deliver effective public services – affordable housing, education, health care – for working families. We believe this is a calling for Melissa. She has made compassion central to her service. We encourage you to join us in supporting her to represent the north coast."
The Independent Party is the 3rd largest political party in Oregon with nearly 138,000 members statewide, and is a platform for independent voters to have a voice in government.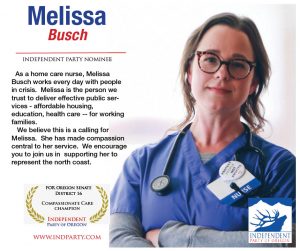 About Melissa: Melissa Busch is a candidate for State Senate District 16, which includes the communities of Tillamook, Seaside, Warrenton, Astoria, Scappoose, St. Helens and Warren. Melissa is a home health nurse and a mother. For more information visit
www.melissafororegon.com