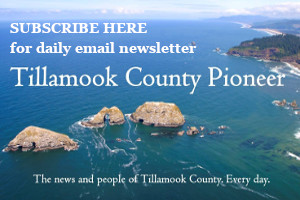 Yesterday, March 23rd, Governor Kate Brown released a new executive order that takes additional steps to ensure Oregonians stay home in order to slow the spread of COVID-19 and save lives.
You may have questions about what the details of this order mean for the businesses you go to or activities that you usually participate in. But in the simplest of terms, the order asks you to please stay home unless it's absolutely necessary. In response to the Governor's order, OHA director Patrick Allen stated:
We know what can happen if every Oregonian doesn't do their part to slow the spread of COVID-19. We don't have to do more than turn on our televisions or go on social media to see what's happening in other parts of the world. We know that our hospitals will be overwhelmed. We know that vulnerable citizens will be particularly at risk to the most serious consequences of the virus.
We're asking everyone to take these measures seriously. We can all do our part to protect the health of our communities. What you do today can save someone's life.
Help us get the message out to all Oregonians to #StayHomeSaveLives
Looking for some simple do's and don'ts under this new executive order? Wondering which businesses are open or closed? We have social media cards that you can download from OHA's COVID-19 website and share. Help us make sure everyone has the basic information they need to make good decisions for their themselves and their families.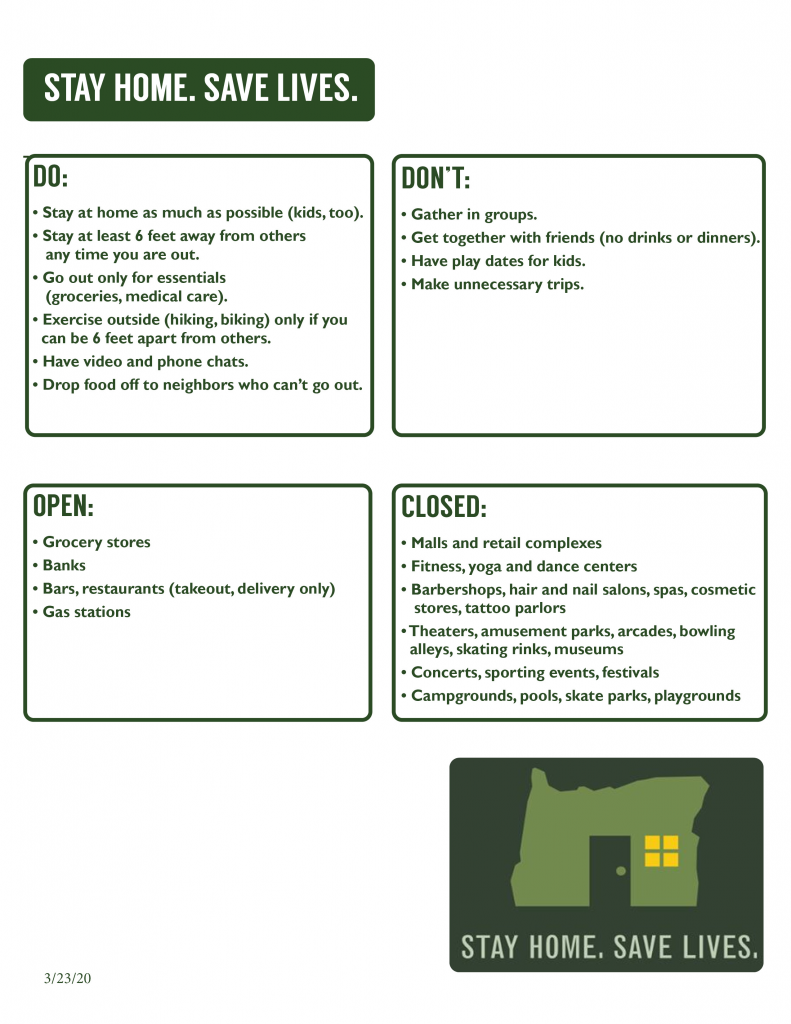 Governor Brown Tightens Social Distancing Measures, Tells Oregonians to "Stay Home, Save Lives"
Governor Kate Brown issued an executive order on Monday March 23rd that included new prohibitions on non-essential social and recreational gatherings, shopping at certain businesses, playground and sport court closures, and new guidelines for childcare facilities. It also requires businesses not closed by the order to implement social distancing policies in order to remain open and requires workplaces to implement teleworking and work-at-home options when possible. The order only permits activities outside the home when social distance is maintained.
A short description of what's allowed and not allowed as well as today's press release can be found on Governor Brown's COVID-19 webpage.
Oregon reports 18 new COVID-19 cases
Oregon reports 3 new COVID-19 deaths, 18 new COVID-19 cases
COVID-19 has claimed three more lives in Oregon, raising the state's death toll to eight, the Oregon Health Authority reported at 8 a.m. today.
Oregon Health Authority also reported 18 new cases of COVID-19, bringing the state total to 209, as of 8 a.m. today. The COVID-19 cases reported today are in the following counties: Clackamas (3), Clatsop (1), Jackson (1), Marion (2), Multnomah (4), and Washington (7). NO CASES in Tillamook County. Since testing began January 24th, there have been 4,559 tests completed; 4,350 Negative tests. To see more details, such as demographics, by-county counts, hospitalizations, the Oregon Health Authority reports new cases once a day on its website: www.healthoregon.org/coronavirus.