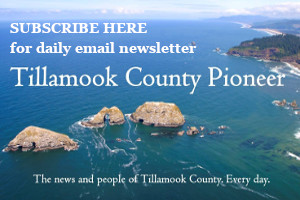 On January 30th, 2022, at approximately 5:30 pm, Tillamook County deputies were dispatched to a Unauthorized Use of a Motor Vehicle (UUMV) in progress call in the Pleasant Valley area. Tillamook 911 dispatchers advised that a black 2000 Ford F-350 had just been stolen from a residence. The victim reported seeing a gray Ford dually in their driveway. The victim then watched as their Ford F350 pickup was driven out of their driveway and continue northbound on Highway 101.
"Shortly after dispatch advised of the UUMV, Officer Trent Olsen of the Tillamook City Police Department advised he was following both vehicles," said TCSO Deputy Kris Wood. TPD Officer Olsen then followed the vehicles east onto Wilson River Hwy. "Officer Olsen attempted to stop the dual wheeled Ford since it was directly in front of him with the Ford F-350 in front of it. Both vehicles picked up speed and failed to yield. Officer Olsen called out a pursuit of the two vehicles as they sped up Wilson River Hwy at speeds of 80 miles per hour (mph)," reported Deputy Wood.
Oregon State Police Trooper Joe Zepeda joined the pursuit on Hwy 6. Trooper Zepeda terminated the pursuit when the suspects sped up and began making bad passes on blind corners. "It was requested that Washington County attempt to spike the two vehicles at the top of the Wilson River Hwy pass," said Deputy Wood. The Tillamook-based Officers continued eastbound on Hwy 6.
Deputies from the Washington County Sheriff's Office (WCSO) responded along with a K9 Unit from Hillsboro Police Department. TCSO Sgt. Jason Hopkins located the gray dually Ford suspect vehicle abandoned just off Hwy 6, as he made his way eastbound. Washington County Deputies then reported that they had successfully spiked the tires of the F350 pick-up that was stolen from Tillamook County. The truck continued traveling eastbound on it's rims until it stopped near the intersection of Hwy 6 and State Route 8, and the suspects fled on foot. WCSO Deputies immediately began searching the area along with the Hillsboro Police K9 unit.
Four suspects, two adult males and two adult females, were quickly located hiding in blackberry bushes along the scent trail the K9 was following. The four suspects refused to identify themselves when they were taken into custody. OSP transported the four suspects to the Tillamook County Jail. It was determined that the dually Ford had been stolen out of Clackamas County.
At the Jail, two of the suspects were immediately identified as James Clinton Middour, 41, of Vancouver, WA, and Lacey Rose Vancleave, 30, of Vancouver, WA. The other two suspects continued to refuse to identify themselves. They were positively identified by Tillamook County Jail Deputies using photos and fingerprints as Victoria Lynn Pizzi, 33, of Vancouver, WA and Joseph Dale Short, 36, of Washougal, WA.
The suspects were charged with multiple crimes including UUMV, Reckless Endangering, Reckless Driving, Theft 2, Criminal Mischief 1, Unlawful Possession of methamphetamine, and Eluding a Police Officer.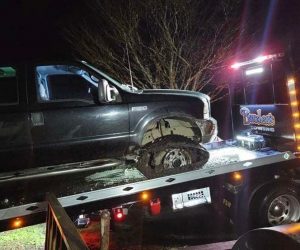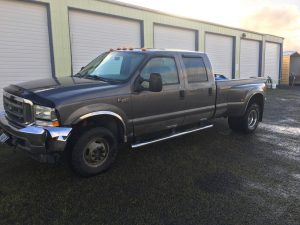 "This was a great outcome. All of suspects were caught, two stolen vehicles were recovered and returned to their rightful owners, and no one was injured," said Tillamook County Sheriff Joshua Brown. "I want to thank our law enforcement partners, Tillamook Police, OSP, Washington County Sheriff's Office, Hillsboro Police, and of course, Tillamook 911, for assisting us with apprehending these criminals."