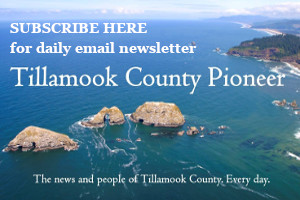 Tillamook County, Oregon – On Tuesday, March 12, 2019 at approximately 6:40pm, Tillamook County Sheriff's Office deputies began the pursuit of a dark colored grey Dodge Ram pickup truck traveling southbound on Highway 101 from the area of Sandlake Rd after it refused to pull over during an attempted traffic stop.
The deputies lost sight of the vehicle after it turned eastbound on Blaine Rd. While deputies continued to search the area for the vehicle several residents in the area reported seeing the vehicle and provided a possible location.
Deputies then located the truck behind a residence on River Bend Rd, a road off of Blaine Road. An investigation discovered the name of the possible suspect was Miguel Neto. After an initial search the subject could not be located, and a K-9 dog was requested from Lincoln County Sheriff's Office and a parameter was established to contain the suspect.
At approximately 7:40pm the K-9 Dog arrived, and a search was started in the area the suspect was last seen. At approximately 8:40pm the suspect was located, hiding in a wooded area, and taken into custody.
The suspect, identified as Miguel A. Neto, age 37, of Tillamook, was arrested and charged with a Probation Violation, Criminal Mischief III – Criminal Damage, Reckless Driving, Eluding a Police Officer – Traffic, Reckless Endangering – Intimidation/Threat.
The Tillamook County Sheriff's Office would like to thank all the residents who assisted with information, and to the Lincoln County Sheriff's Office for their K-9 support.