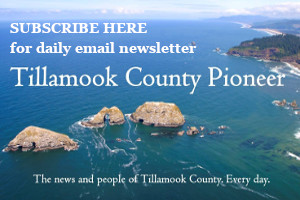 By Sayde Walker
The owners of Sunflower Flats in downtown Tillamook have announced their intentions to sell the business.
"We have built a solid, successful business with a strong customer base locally as well as world-wide via our e-commerce website," said Natalie Rieger, who co-owns the shop with her mother, Cindy Gardner.
Natalie and Cindy opened up shop 17 years ago, transforming a dilapidated corner store front into a charming, small-town floral shop with a variety of hand-made and locally-made gifts.
"Our story is really that perfect business success story," Natalie recalled. "My mom was invited to share a booth at the very first Tillamook Farmers Market in 2001, and so she sold flowers that she had been growing in her yard."
People kept telling Cindy that she should do more with her flowers.
"We already had our eye on the shop on the corner," Natalie said. The shop had been vacant for some time, and the mother-daughter duo saw the potential to combine Cindy's green thumb with Natalie's business knowledge.
Three months later, Natalie moved from Portland to help open Sunflower Flats.
"This business allows personal connection with so many as we navigate triumphs and tragedies through flowers," Natalie said. "New babies whom we delivered flowers to in the Fall of 2001 when we opened, are now attending the Junior/Senior Prom and we are designing their wristlets and boutonnieres."
However, Natalie said she and her mom know it's time to move on.
"No one wants to work forever and my mom is ready to retire and spend time doing things that she has waited on for a long time now," she said. Cindy had officially retired prior to starting Sunflower Flats, and she is looking forward to trying out a more traditional definition of retirement; one that includes more leisure time in the garden, adventuring with her grandchildren, foreign and domestic travel, and time for her writing.
Natalie's life is also changing, as her administrative role in her other business, Rieger Logging, has grown into more of a full-time position.
"I always knew from day one of Sunflower Flats that I'd never be interested in continuing the business without my mom," she said. During those first years, Natalie worked part-time at the shop while holding an 8-5 job with the county, before having her children and needing a more flexible schedule.
"I've appreciated a very flexible schedule, working from home much of the time, and being able to bring the kids with me to the shop," she said. "But it just wouldn't be the same for me without her, and I'm ready to move forward with other opportunities. They say you have an average of seven careers in a lifetime, so I need to get busy!"
Rather than viewing this changing season as an end, Natalie said this is really the beginning of a great opportunity for someone who wants to own a thriving business downtown. Sunflower Flats employs an average of eight people and deliver 15-20 arrangements every day between Manzanita and Neskowin. While the downtown construction has decreased their foot traffic, deliveries have never ceased.
"It's only going to get better from here," Natalie said. "We have weathered the storm and now we're starting to see the spring and summer tourist traffic pick up, we have brand new sidewalks that are beautiful, we have Pacific Restaurant open on our block and the Second Street Plaza space; as the highway project comes to a close this is truly an amazing opportunity for someone to come in and take over and flourish and really make it their own."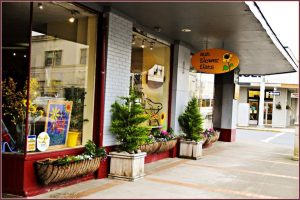 Along with the new highway, the climate of downtown has changed a lot in 17 years that Natalie and Cindy have operated Sunflower Flats.
"It kind of started with the Cork & Brew Tour and Small Business Saturday as these great seed events that got business owners thinking about how to work together to create a really fun atmosphere downtown," she said. "And now with Art Walk and Sip + Shop, we're seeing consistent monthly activities that are drawing people to downtown, and making shopping and socializing part of people's regular life."
Sunflower Flats will be operating business as usual while they look for the right buyer. They will be booking weddings and events through 2018, and the gift shop will remain open.
If you are interested in this turn-key business opportunity, you can contact Natalie directly at natalie@sunflowerflats.com or 503.812.2316.