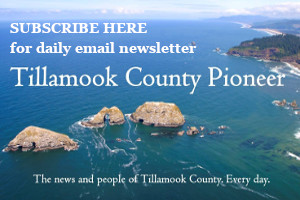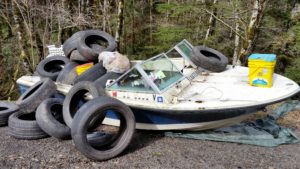 On February 12th, 2017, Fish and Wildlife Troopers from the Tillamook OSP office received multiple complaints of an abandoned boat along scenic Highway 6 near milepost 31. The boat was overflowing with household trash and tires. Some of the trash was scattered down the embankment and into the Wilson River.
All of the boats identifying numbers had been altered or scratched off to avoid detection, making the boat's original owner extremely hard to track down. After a long and thorough investigation, taking the Troopers into various cities outside their normal area of operation, they discovered that the suspect had moved from St Helen's to Beaverton and could not keep the boat at his new residence.
The suspect was identified as 28 year old Justin Lee Savage who was criminally cited and released for littering within 100 yards of a waterway.
The Oregon Department of Transportation crews removed the boat from the highway right of way and picked up trash from the Wilson River. Restitution for costs accrued during the removal of the vessel and trash will be sought, upon conviction.
News Release from Oregon State Police
Posted on FlashAlert: April 10th, 2017 1:48 PM