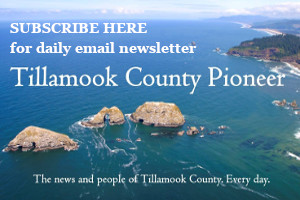 By DeAnna Pearl, M.A.T, B.S., Certified Prevention Specialist
SOS Tillamook – Prevention, Tillamook Family Counseling Center
On July 20, 1995, Robert "Bobby" Hafemann took his own life. He left behind a family full of grief, sadness, and many questions. His sister, Ronda Hatefi, became increasingly bothered by something Bobby had said in the note he left behind. He wrote he "felt like a ghost." Many people with a gambling problem voice similar sentiments. In 1995, there were not a lot of places for a person with a gambling problem to go. Since then, treatment and outreach for gambling has grown.
In the forefront of the movement to bring awareness to the public is Ronda Hatefi. She is the founder of Oregonians for Gambling Awareness Organization (OGAO). Her hope is to strengthen the message that "gambling can become an addiction and if it does, there is hope and help." She does not want another family to suffer the devastation of problem gambling that has impacted hers.
Each year since Bobby's death, she has petitioned the Oregon Governor to proclaim September 29 as Problem Gamblers Awareness Day. Once again, Gov. Kate Brown signed a proclamation:
Whereas Problem gambling is a major public heath concern, affecting 80,000 Oregonians of every race, ethnicity, gender, economic level and age group;
Whereas Problem gambling has a negative impact on our families, our communities, our State, and our Country.
Whereas there are established connections between problem gambling and other addictions.
Whereas all Oregonians are encouraged to not only recognize the signs of gambling disorders, but to reach out and support the people at risk for gambling disorder with a message of help and hope.
For 20 years, her request was honored and, by doing so, Bobby's life has been honored. It is the anniversary of his birth. His death has become a day of hope for those hurting and suffering in silence.
Like other addictions, the compulsion to gamble can become the main priority of a person's life. When this happens, the emotional and financial upheavals are devastating. For those entering treatment last year, the Oregon Health Authority estimates their combined debt related to gambling at more than $31 million.
In Oregon, treatment for a person with a gambling problem and their loved ones is free and confidential and provided through Oregon Lottery revenues; those interested in seeking help may call the 24-hour help line at 1-877-MY-LIMIT (877-695-4648) and www.opgr.org (en español: www.opgr.org/es).
For more information about Awareness Day, contact Ronda Hatefi: ogao.ronda@gmail.com