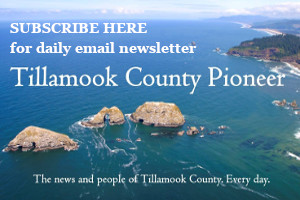 by Fred Bassett, Tillamook County Democratic Central Committee Chair
"I feel we have a great system to get the ballots to people, and to get them back!" That was the fundamental message Tillamook County Clerk Tassi O'Neil shared with the Tillamook County Democratic Central Committee (TCDCC) as the guest speaker at their monthly meeting, Thursday, August 27. The meeting was held via Zoom chat.
"Here in Oregon we have an excellent vote-by-mail system," O'Neil said. She shared the fact that her experience in the Tillamook County Clerk's office spans more than 30 years, which means she has seen and worked on both types of voting practices – casting ballots in a defined polling booth location or voting by mail. She noted that Oregon's Vote-By-Mail system became law in 1998, which means that this year marks the 20th year Oregon voters have received and cast their votes by mail.
To make voting by mail even easier, or, at least less expensive, O'Neil told TCDCC that return mailing envelopes are now postage paid. This practice started with the Primary Election in May of this year.
To address concerns expressed by members of the TCDCC over news announcements about possible voter fraud, and over announced changes to the United States Postal Service brought on by the current federal administration, O'Neil said her office, together with County Clerks across the state, the Secretary of State and representatives of Oregon's central post office in Portland have and are continuing to meet to make certain all ballots are delivered and returned in the orderly fashion that has made Oregon's Vote-By-Mail system a model for other states.
In a brief interview with O'Neil held prior to Thursday's meeting, she said that claims that Oregon's Vote-By-Mail system is "subject to fraud" is "absolutely absurd! Every signature is checked," O'Neil said.
She suggested that new voters and/or people who don't understand how Oregon's Vote-By-Mail system works, check the educational question and answer section of the Oregon Voters' Pamphlet, which will be in mailboxes prior to the mailing of ballots.
Not only does Oregon's Vote-By-Mail offer clear advantages for voters – convenience of voting in the comfort of their home, no standing in line at polling booths, ease of casting ballot by mail or in conveniently located ballot drop boxes around the county. These advantages are amplified by the restrictions on public gatherings brought on by the current pandemic, she said.
Additionally, as governmental budgets are squeezed by the effects of the current pandemic, O'Neil noted that there is a very clear cost advantage for her office in handling elections by mail. She noted that prior to 2000, she was required to staff approximately 40 polling places in Tillamook County with three to four staff members in each. In addition to the actual poling date, all of these staff members also had to be paid for a training period prior to the election. Although she has an expanded dedicated election staff during election cycles, it doesn't compare to the additional staff she was required to hire prior to 2000.
She shared some critical dates with TCDCC members:
Deadline to register – October 13;
Deadline to change registration – Through Election Day, Nov. 3;
Voters' Pamphlet mailing date – October 14;
Ballot mailing date – October 14;
Ballot mailing date – Military and foreign September 19;
Ballot mailing date – Out of state October 5
Ballot Return date and time – 8 p.m., November 3
Recommended final date for mailing ballot – at least one week prior to Election Day*
*If there is any question whether a ballot will arrive by mail in time to be counted, O'Neil recommends using one of the county's nine ballot drop boxes. This year, this number includes two new drop boxes in the City of Tillamook. One is at the Tillamook County Public Library and the other is just outside O'Neil's office at the Tillamook County Court House (adjacent to the stairs at the northwest entrance to the building. For a full list of ballot drop boxes, visit
https://www.co.tillamook.or.us/gov/Clerk/Elections%202020/DROPSITE.media&sites.schedule.pdf
For a complete recording of O'Neil's address to the TCDCC, visit https://www.youtube.com/channel/UCnsLbm36WAx0pY_WsQ8n5nA  or  https://www.facebook.com/tillamookcountydemocrats/
For more information about the Tillamook County Democratic Central Committee visit TillCoDems.org