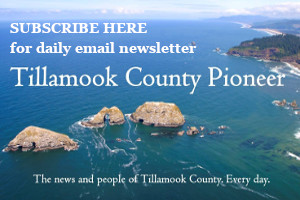 At the start of January, Tillamook Bay Community College unveiled a brand new logo.
The new logo builds from the landscape and is designed to represent the growth and progression of relationships at TBCC. Built from five shapes (and five negative spaces), symbolizing the five rivers that feed Tillamook Bay, the image calls upon the fluidity and tenacious movement of the local waters that define the college's landscape. The image reflects the greater whole of Tillamook Bay, fed by many parts, and the unifying force that ushers students forward toward something greater.
"Our mission at TBCC is always to provide quality education that serves the needs of our diverse community," said TBCC President Ross Tomlin. "No matter where you want to go in life, or what you hope to accomplish, TBCC can help you get there. Our students come from many different walks of life, but no matter where a person starts they can come to TBCC and grow. Our new logo helps tell this story."


Over the course of the five-month project nearly 100 students, faculty, staff, and the Board of Education provided input and feedback on the concept and final design. A committee of six employees from across the organization and member of the Board of Education managed the project. Deer Island Studios from Nehalem, Oregon was the design studio.
The previous version of the logo was launched in 2007 and originally included two blue swooshes that swept across the top of the college name. In 2011, for the 30th anniversary of the college a third swoosh was added and a new color palette was launched.
"TBCC is growing; it is starting its first alumni association, expanding its physical and digital footprint, and it needs a logo that can grow with it and be used in multidimensional ways," said project manager Heidi Luquette, Executive Director of Advancement. "This new logo is rooted here in this landscape and conveys that whether you are a new student, a community partner, or a local employer, TBCC is here to help you progress toward something greater."
The new logo coincides with the 40th anniversary of the college and will become more visible in the community over the next year. For more about TBCC, go to www.tillamookbaycc.edu